Union Minister of Housing & Urban Affairs launches initiatives for Cities
News: Union Minister of Housing and Urban Affairs has launched several initiatives namely Nurturing Neighborhoods Challenge and Data Maturity Assessment Framework Cycle 2.
Facts:
Nurturing Neighborhoods Challenge:
What is it? It is a 3-year initiative that aims to support cities to develop, pilot and scale solutions that enhance the quality of life of young children, their caregivers and families in the public realm.
Implementation: The challenge is conducted with the support of the Bernard van Leer Foundation, Netherlands with technical support from World Resources Institute(WRI) India.
Features: Under the challenge, selected cities will receive technical assistance and capacity-building to reimagine parks and open spaces; improve access to early childhood facilities; adapt public spaces with early childhood oriented amenities; and create accessible, safe, walkable streets for young children and families.
Eligibility: The challenge will be open to all Smart Cities, other cities with more than five lakh population, and capitals of States and UTs.
Data Maturity Assessment Framework(DMAF):
Background: The Smart Cities Mission had launched the DataSmart Cities Strategy in 2019 as a roadmap for harnessing the potential of data to address complex urban challenges across 100 Cities.

To successfully implement this initiative, the Data Maturity Assessment Framework was launched to encourage cities to strengthen their data infrastructure and facilitate them in assessing their readiness and maturity on data.

DMAF-2: It aims to support cities to assess their own data maturity with respect to a standardized framework covering aspects of enabling policies, governance structures, capacity building and stakeholder engagement at the city level.

Data Maturity is the extent to which an organisation utilises the data they produce.
Interpol creates cybercrime-related communication services
News: INTERPOL has created two secure and flexible services to facilitate cybercrime-related communication among police and other stakeholders.
Facts:
Cybercrime Knowledge Exchange workspace: It is open to law enforcement, governments, international organizations and cybersecurity industry experts to exchange non-police operational information on cybercrime.
Cybercrime Collaborative Platform: It is a centralized information hub for the coordination of global law enforcement operations against cybercrime.
Additional Facts:
International Criminal Police Organization (INTERPOL): It is an intergovernmental organization established in 1923 with the aim to facilitate worldwide police cooperation and crime control in around 194 countries.Headquarters: Lyon,France.
INTERPOL National Central Bureau(NCB): Each of the member countries hosts an INTERPOL NCB.It connects their national law enforcement with other countries and with the General Secretariat of Interpol.

The Central Bureau of Investigation(CBI) is designated as the National Central Bureau of India.
Explained: The Miyas of Assam, and their char-chapori culture
News: A proposed "Miya museum" reflecting the culture and heritage of the people living in char-chapouris has stirred up a controversy in Assam.
Facts:
Who are the Miyas? The 'Miya' community comprises descendants of Muslim migrants from East Bengal (now Bangladesh) to Assam.They came to be referred to as 'Miyas', often in a derogatory manner.
What is Char-chapouris? A char is a floating island while chaporis are low-lying flood-prone riverbanks.It is located in the Brahmaputra River and is primarily inhabited by Miya community.
Culture of Miya Community:

They perform an ancient martial art called the Lathiba.
The community has a variety of songs such as bhatiali Geet related to the river, magan geet or harvest songs, noi khelor geet or boat songs among others.
India – Gulf Cooperation Council(GCC) Dialogue
News: India had a virtual meeting with the Gulf Cooperation Council(GCC). During the meeting, India has asked the members of the GCC to facilitate the return of Indians who want to resume work with the relaxing of Covid-19-related restrictions.
Facts: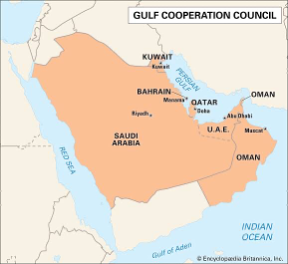 Gulf Cooperation Council(GCC): It is a regional intergovernmental political and economic union established in 1981.
Members: Bahrain, Kuwait, Oman, Qatar, Saudi Arabia and UAE
Objective: To have coordination, integration and inter-connection between Member States in all fields, strengthening ties between their peoples, formulating similar regulations in various fields and encouraging cooperation of the private sector.
Headquarters: Riyadh, Saudi Arabia.
Facebook sued two companies for data scraping. What does this mean?
News: Facebook has sued two companies in the U.S. for data scraping from its platforms.
Facts:
Data Scraping or web scraping is the process of extracting data from a website.Scraper bots are designed to derive information from these websites.A user designing a bot to extract data is called a scraper.
Why Data Scraping? Teams or individuals resort to data scraping from various companies to source marketing information related content and product price.
Is Data Scraping illegal? Data scraping is not declared illegal but the purpose of scraping can be examined.Good bots enable search engines to compare prices of different services and gauge sentiment on social media for market research.However, Bad bots fetch content with an intention to reveal sensitive information.
Government forms committee to review TRP guidelines
News: The Information and Broadcasting Ministry has constituted a four-member committee to review the guidelines on TRPs (Television Rating Points).
Facts:
Chaired by: The committee will be chaired by Shashi S. Vempati, CEO, Prasar Bharti.
Terms of Reference: The Terms of Reference for the Committee shall be as under:

Study past recommendations made by various forums on the subject of television rating systems in India.
Study recent recommendations of Telecom Regulatory Authority on the subject;
Suggest steps for enhancing competition in the sector and review the presently notified guidelines.
Additional Facts:
TRP: It represents how many people from which socio economic categories watched which channels for how much time during a particular period.

Methodology: For calculating TRP, BARC has installed "BAR-O-meters" in over 45,000 empanelled households.These households are classified into 12 categories under the New Consumer Classification System (NCCS).

Broadcast Audience Research Council(BARC): It is an industry body jointly owned by advertisers, ad agencies and broadcasting companies, represented by The Indian Society of Advertisers, the Indian Broadcasting Foundation and the Advertising Agencies Association of India.
All insults not offence under SC/ST Act: Supreme Court
News: Supreme Court has ruled that all insults or intimidations to persons belonging to Dalit or tribal communities will not be an offence under the Scheduled Castes and Scheduled Tribes (Prevention of Atrocities) Act.
Facts:
What was the case? The court was hearing an appeal filed by an accused booked under the SC/ST Act for allegedly abusing a Dalit woman in her house.
What was the judgement? The court has said that an offence will be considered under the SC/ST Act only if the insults or intimidations were intended to humiliate a member of the community, targeting their caste or tribe or if it is done in a place "within public view".
Additional Facts:
Scheduled Castes and Tribes (Prevention of Atrocities) Act,1989: It is an Act of the Parliament of India enacted to prevent atrocities against scheduled castes and scheduled tribes.
SC/ST Amendment Act,2018: The act was amended in 2018 to insert the following provisions to the original Act:

Preliminary enquiry shall not be required for registration of a First Information Report against any person.
The arrest of a person accused of having committed an offence under the Act would not require any approval.
The provisions of Section 438 of the Code of Criminal Procedure which deals with anticipatory bail shall not apply to a case under this Act, notwithstanding any judgment or order of any Court.
Gandhian Young Technological Awards(GYTI)
News: Union Minister for Science and Technology has given away the Gandhian Young Technological Awards(GYTI).
Facts:
Gandhian Young Technological Awards(GYTI): It aims to celebrate the spirit of student innovation in all the fields of engineering, science, technology and design through extremely affordable solutions or the ones pushing the technological edge.
Categories: The awards constitute two categories of awards namely:

SITARE–GYTI under Biotechnology Industry Research Assistance Council (BIRAC) and
SRISTI-GYTI given by Society for Research and Initiatives for Sustainable Technological Innovations(SRISTI).
Additional Facts:
BIRAC: It is a not-for-profit state owned enterprise under the Department of Biotechnology (DBT) to strategically empower emerging biotech companies.
SRISTI: It is a developmental voluntary organization aiming to strengthen the creativity of/at/for grassroots communities ,including individual innovators.