1 India had most deaths in road accidents in 2019: Report
News: Ministry of Road Transport and Highways has released a report titled "Road Accidents in India".
Facts:
Key Highlights from the report:
Road Accidents: The total number of road accidents in India declined 3.86% in 2019. However, India continued to have the most road fatalities in the world followed by China.
Causes of Road Accidents: Speedingwas the leading cause of deaths, while in terms of vehicles, two-wheelers were involved in most road fatalities.
Road Accidents in States: MostRoad accidents were reported in Tamil Nadu followed by Madhya Pradesh, Uttar Pradesh, Kerala and Karnataka.
Road Accidents in Cities: Among cities, Delhi retained its first rank followed by Jaipur, Chennai and Bengaluru.
Most Deaths on Highways: The national and state highways which account for just 5% of the total roads in the country, saw the most deaths — 61% of the total.
Additional Facts:
Brasilia Declaration: It was signed at the Second Global High-Level conference on Road Safety held in Brazil in 2015.The declaration also calls upon countries to achieve the Sustainable Development Goal 3.6 which calls to halve the number of global deaths and injuries from road traffic accidents by 2020.
Justice K.S. Radhakrishnan Committee: It was set up by the Supreme Court on road safety in 2014.It has said that speeding is the major cause of accidents especially on straight roads and highways where control on speed is minimal.
Decade of Action for Road Safety 2011–2020: It was officially proclaimed by the United Nations General Assembly in 2010.Its goal is to stabilize and reduce the forecast level of road traffic deaths around the world.
2 Kabartal Wetland designated as Ramsar Site
News: Kabartal Wetland has been designated as Ramsar sites.With this, the total number of Ramsar sites in India is 39, the highest in South Asia.
Facts:
Kabartal Wetland: Itis also known as Kanwar Jheel.It covers 2,620 hectares of the Indo-Gangetic plains in the Begusarai district of Bihar.
Significance: It acts as a vital flood buffer for the region besides providing livelihood opportunities to local communities.
Biodiversity: Significant biodiversity is present in the wetland.It is also an important stopover along the Central Asian Flyway for migratory waterbirds.
Species: It is home to species such as white rumped vulture(Critically Endangered), red-headed vulture (Critically Endangered) and two waterbirds, the sociable lapwing (Vanellus gregarius) and Baer's pochard (Aythya baeri).
Additional Facts:
Ramsar Convention on Wetland (1971): It is an intergovernmental treaty which provides the framework for national action and international cooperation for the conservation and wise use of wetlands and their resources
Montreux Record: It is a register of wetland sites on the List of Ramsar wetlands of international importance. It shows such sites where there has been or likely to be adverse ecological changes due to anthropogenic activities. Indian sites in the Montreux Record are Keoladeo National Park (Rajasthan), Loktak Lake (Manipur).
3 CVC amends SOP for adoption of Integrity Pact in govt. organisations
News: The Central Vigilance Commission has amended the Standard Operating Procedure(SOP) on adoption of "Integrity Pact" in government organisations for procurement activities.It also restricted the maximum tenure of Integrity External Monitors(IEMs) to three years in an organisation.
Facts:
Integrity Pact: Itis a vigilance tool that envisages an agreement between the prospective vendors/bidders and the buyer committing both the parties not to exercise any corrupt influence on any aspect of the contract.

Significance: The pact ensures transparency, equity and competitiveness in public procurement.

Integrity External Monitors(IEM): The Integrity Pact envisages a panel of IEMs for each organisation.IEM reviews independently and objectively, whether and to what extent parties have complied with their obligations under the pact.

They may submit a report to the chief executive of the organisation concerned or directly to the CVO and the CVC if they find serious irregularities attracting the Prevention of Corruption Act provisions.
Additional Facts:
Central Vigilance Commission(CVC): Itwas set up by the Government in February,1964 on the recommendations of the Committee on Prevention of Corruption headed by K. Santhanam.

Statutory Status: The Commission was accorded the status of independent statutory authority through the Central Vigilance Commission Act,2003.

Independent Body: It is not controlled by any Ministry or Department.It is an independent body which is only responsible to the Parliament.
4 Evidence of dairy production in the Indus Valley Civilisation
News: The study published in the journal Nature has found the Evidence of dairy production in the Indus Valley Civilisation.
Facts:
About the study: The study was based on molecular chemical analysis of residue in shards of pottery found at the archaeological site of Kotda Bhadli, a rural settlement located in Gujarat.
Key findings from the study:
Dairy Production in Indus: Dairy production in India began as far back as in the 3rd millennium BCE and may have been a factor behind sustaining the Indus Valley Civilisation.
Which type of animals were used? The study was also able to show which type of animals were being used for dairy production.They concluded that the animals used were cattle like cows and buffalo rather than goats and sheep.
Industrial level of Dairy Production: The Harappans did not just use dairy for their household.The large herd indicates that milk was produced in surplus so that it could be exchanged and there could have been some kind of trade between settlements.
Additional Facts:
Indus Valley civilisation: Itis the oldest urban civilisation discovered till date.It flourished in the basins of the Indus River.The civilisation is noted for their urban planning, baked brick houses, elaborate drainage systems, water supply systems, large and new techniques in handicraft.
News: Prime Minister(PM) has delivered an inaugural address at the India Energy Forum CERAWeek.
Facts:
Organised by: It is an annual event organized by NITI Aayog and Ministry of Petroleum & Natural Gas.
Objective: To deliver a global platform to understand best-practices, discuss reforms, and inform strategies for accelerating investments into the Indian Oil and Gas value chains.
Key Highlights of the address:
Renewable Energy Target: India has the target to increase the installed renewable energy capacity to 175 GW by 2022 that has been further extended to 450 GW by 2030.
Aviation Market: India is the third largest and the fastest growing aviation market in terms of domestic aviation and Indian carriers are projected to increase their fleet size from 600 to 1200 by 2024.
India allows 100% FDI in exploration and production projects and has permitted 49% FDI in public sector refining under the automatic route.
Seven Key Drivers: India's energy map will have seven key drivers:

Accelerating our efforts to move towards a gas-based economy.

Cleaner use of fossil fuels particularly petroleum and coal

Greater reliance on domestic sources to drive biofuels.

Achieving the renewables target of 450 GW by 2030.

Increasing the contribution of electricity to decarbonize mobility.

Moving into the emerging fuels including hydrogen

Digital innovation across all the energy systems.
6 AIM Launches India–Australia Circular Economy Hackathon(I-ACE)
News: Atal Innovation Mission(AIM) in association with Australia's Commonwealth Scientific and Industrial Research Organisation(CSIRO) has launched a two day India–Australia Circular Economy Hackathon(I-ACE).
Facts:
I-ACE Hackathon: It aims to focus on identification and development of innovative technology solutions by bright-minded students, startups and MSMEs of both nations.
Themes: The four key themes for the hackathon are as follows:

Innovation in packaging reducing packaging waste

Innovation in food supply chains avoiding waste

Creating opportunities for plastic waste reduction

Recycling critical energy metals and e-waste.
Additional Facts:
Atal innovation mission(AIM): It was set up by NITI Aayog in 2016 to promote a culture of innovation and entrepreneurship by creating institutions and programs that enhance innovation in schools, colleges, and entrepreneurs in general.
Circular Economy: It is an economic system aimed at eliminating waste and the continual use of resources.It employs reuse, sharing, repairing, refurbishment, remanufacturing and recycling to create a closed-loop system minimising the use of resource inputs and the creation of waste, pollution and carbon emissions.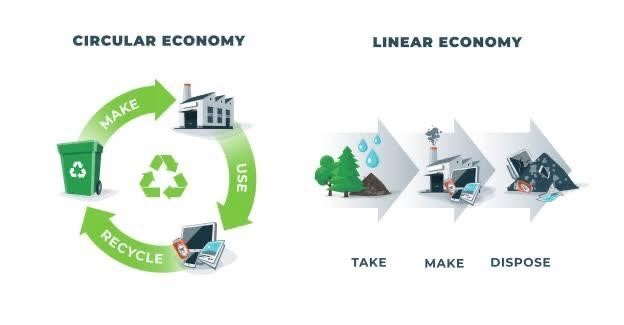 7 International Snow Leopard Day
News: International Snow Leopard Day is being observed on October 23 every year since 2013.The primary aim of the day is to raise awareness on conservation and protection of the snow leopards.
Facts:
HimalSanrakshak: It is a community volunteer programme launched by the Government of India to protect Snow leopards.
Snow Leopard Conservation:
Project Snow Leopard (PSL): Itwas launched by Govt of India in 2009 to promote an inclusive and participatory approach to conserve snow leopards and their habitat.
Global Snow Leopard and Ecosystem Protection(GSLEP): It is a joint initiative of range country governments, international agencies, civil society, and the private sector.Its goal is to secure the long-term survival of the snow leopard in its natural ecosystem.
Snow Leopard Landscapes: For conservation, India has identified three large landscapes namely, Hemis-Spiti across Ladakh and Himachal Pradesh; Nanda Devi – Gangotri in Uttarakhand; and Khangchendzonga – Tawang across Sikkim and Arunachal Pradesh.
Flagship Species: The Government of India has also identified the snow leopard as a flagship species for the high-altitude Himalayas.
Additional Facts:
Snow leopards: Itlives in the mountainous regions of central and southern Asia.
Range Countries: Snow leopard is found in 12 range countries namely Afghanistan, Bhutan, China, India, Kazakhstan, Kyrgyzstan, Mongolia, Nepal, Pakistan, Russia, Tajikistan, and Uzbekistan.
India: The states of Jammu and Kashmir, Himachal Pradesh, Uttarakhand, Sikkim and Arunachal Pradesh constitute snow leopard Habitat range in India.
IUCN Status: Vulnerable
CITES: Appendix I
Significance: Snow leopard is the State animal of Himachal Pradesh.
8 Explained: The plasma therapy debate
News: Recently published findings on convalescent plasma therapy on Covid-19 patients have triggered a debate over its efficacy.
Facts:
PLACID trial:
It is a randomized controlled trial to assess the safety and efficacy of convalescent plasma to limit COVID-19 associated complications in moderate disease. It was conducted by Indian Council of Medical Research (ICMR).
The trial found that convalescent plasma was ineffective in arresting Covid-19.
Plasma:
Plasma also called Blood Plasma is the single largest component of human blood.
Functions: a) maintain blood pressure and volume b) Supply critical proteins for blood clotting and immunity c) Carries electrolytes such as sodium and potassium to our muscles and d) Helps to maintain a proper pH balance in the body which supports cell function.
Convalescent plasma therapy
It aims to make use of the antibodies developed in the recovered patient against the infections.
Under this, whole blood or plasma from recovered patients are taken and then injected into critically ill patients so that the antibodies are transferred and boost their fight against the virus.