Electricity Access & Utility Benchmarking Report
News: NITI Aayog, Ministry of Power, Rockefeller Foundation, and Smart Power India has launched the 'Electricity Access in India and Benchmarking Distribution Utilities' report.
Facts:
About the report: The report is based on a survey conducted across 10 states.
Objective: The report captures insights from both demand (electricity customers) as well as supply side (electricity distribution utilities).It seeks to:

Evaluate the status of electricity access in India across these states and distribution utilities along all dimensions that constitute meaningful access

Benchmark utilities' capacity to provide electricity access and identify the drivers of sustainable access

Develop recommendations for enhancing sustainable electricity access.
Key Takeaways:
Availability of Electricity: 92% of customers reported the overall availability of electricity infrastructure within 50 metres of their premises.
Grid Based Electricity: 87% of the surveyed customers have access to grid-based electricity. The remaining 13% either use non-grid sources or don't use any electricity at all.
Hours of Electricity: The hours of supply have improved significantly across the customer categories to nearly 17 hours per day.
Metered Connection: Nearly 85% of customers reported to have a metered electricity connection.
Access: TheAccess to electricity is observed in 83% of household customers.
Satisfaction Index: A satisfaction index was created to assess the overall satisfaction level of customers with utility services.The study suggested that a total of 66% of those surveyed were satisfied––74% of customers in urban areas and 60% in rural areas.
Recommendations: Some of the recommendations given by report are:
Infrastructure and capacity-building of utilities
Prioritising the release of new connections for non-household customers;
Transfer of subsidies or other benefits directly into a customer's account;
Enhanced technology-driven customer service
Ensuring 100% metering of customers.
President signs ordinance for setting up commission to manage NCR air quality
News: President of India has promulgated an ordinance to constitute a Commission for Air Quality Management in National Capital Region(NCR) and adjoining areas.
Facts:
Purpose: To tackle air pollution and to monitor and improve air quality in the National Capital Region(NCR) and adjoining areas.
Composition: It will consist of a Chairperson, a representative from the Ministry of Environment, members from the state of Delhi, Haryana, Punjab, Uttar Pradesh and Rajasthan, technical experts from Central Pollution Control Board and Indian Space Research Organization among others.
Functions and Powers:

To work towards better coordination, research, identification and resolution of problems surrounding the Air Quality Index in the NCR and adjoining areas.

It has the powers to take all such measures, issue directions and entertain complaints in order to protect and improve the quality of air in the National Capital Region and adjoining areas.

It will also lay down the parameters for emission or discharge of environmental pollutants from various sources.

Headquarters: Delhi.
Vice President launches virtual festival of 'Parampara Series 2020- National Festival of Music & Dance'
News: Vice President of India has launched the virtual festival of 'Parampara Series 2020-National Festival of Music and Dance'.
Facts:
Parampara Series: It is an annual festival of music and dance organised by Natya Tarangini in partnership with the United Nations.
Additional Facts:
Natya Tarangini: It was founded initially as a Kuchipudi Dance Institute by India's legendary dancing couple Dr.(s) Raja Radha and Kaushalya Reddy in the year 1976 in New Delhi.It has now evolved from a simple Kuchipudi dance school into a world-class performing arts centre.
Now, outsiders can buy land in Jammu and Kashmir
News: Ministry of Home Affairs has introduced the 'Union Territory of Jammu and Kashmir Reorganisation (Adaptation of Central Laws) Third Order, 2020'.
Facts:
What are the key changes made?
Permanent residents: The term permanent residents of the State' has been removed from important provisions of laws.No domicile or permanent resident certificate is required to buy land in Jammu and Kashmir.Urban or non-agricultural land can be sold to outsiders.
Implementation of RERA: Real Estate (Regulation & Development) Act, 2016 has been notified in the J&K.
Jammu and Kashmir Industrial Development Corporation(JKIDC): It has been established to acquire, promote and sell land for the purpose of industrial undertakings.
Declaration of strategic area: An Army officer not below the rank of Corps Commander can declare an area as Strategic Area within a local area, only for direct operational and training requirements of the armed forces.
Usage of agricultural land: No sale, gift, exchange or mortgage of the land shall be valid in favour of a person who is not an agriculturist. However, the government may allow transfer of land in favour of a person or an institution for the purpose of promotion of healthcare or senior secondary or higher or specialized education in J&K.
Contract Farming: permits contract farming on agricultural lands. Nothing shall prohibit the transfer of ownership of land for 'contract farming', or grant of lease or mortgage for the loan.Earlier, it was limited to the mortgage for loans.
Radio-tagged Amur Falcons arrive in Manipur
News: Chuilon and Irang, the radio-tagged Amur Falcons have arrived in Manipur after completing one migratory journey that covered 29,000 km in 361 days.
Facts: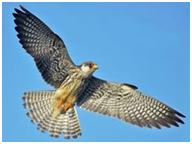 The Amur Falcon locally known as 'Akhoipuina is the world's longest travelling migratory raptors.
Migratory Route: They breed in East Asia and migrate to northeast India, Sri Lanka and sometimes to Thailand, Cambodia and up to the Arabian Sea and parts of Southern Africa.
Doyang Lake in Nagaland is known as a stopover for the Amur falcons during their annual migration.
IUCN Status: Least Concern
Significance: Nagaland Government organises Amur Falcon festival to spread awareness about the need to provide safe passage to Amur falcons.