Pradhan Mantri Kisan Samman Nidhi(PM-KISAN) Scheme
News: The Prime Minister has released the next instalment of financial benefit under PM Kisan Samman Nidhi through video conference.
Facts:
PM KISAN: It is a Central Sector scheme launched by the Ministry of Agriculture & Farmers Welfare in 2019.
Objective: To augment the income of the farmers by providing income support to all landholding farmers' families across the country and to enable them to take care of expenses related to agriculture and allied activities as well as domestic needs.
Income Support: Under the Scheme an amount of Rs.6000/- per year is transferred in three 4-monthly installments of Rs.2000/- directly into the bank accounts of the farmers subject to certain exclusion criteria relating to higher income status.
Coverage: The Scheme initially provided income support to all small and Marginal Farmers' families across the country, holding cultivable land up to 2 hectares. Its ambit was later expanded to cover all farmer families in the country irrespective of the size of their land holdings.
Beneficiaries: The entire responsibility of identification of beneficiaries rests with the State / UT Governments.
Exclusions: Affluent farmers have been excluded from the scheme such as Income Tax payers in last assessment year, professionals like Doctors, Engineers, Lawyers, Chartered Accountants etc. and pensioners drawing at least Rs.10,000/- per month (excluding MTS/Class IV/Group D employees).
Special Provisions: Special provisions have also been made for the North-Eastern States where land ownership rights are community based, Forest Dwellers and Jharkhand which does not have updated land records and restrictions on transfer of land.
Other Similar programmes by States:
Krushak Assistance for Livelihood and Income augmentation (KALIA)- Odisha
Each family will get Rs 5,000 separately in the kharif and rabi seasons irrespective of the amount of land.
The Rythu Bandhu scheme- Telangana.
In this scheme the government will provide Rs.4000 per acre per farmer per season to cover the input costs associated in farming like seeds, fertilizers, labour etc.
Jal Jeevan Mission launches innovation challenge for portable water testing devices
News: National Jal Jeevan Mission has launched an innovation challenge in partnership with Department of Promotion of Industry and Internal Trade to develop portable devices for water testing.
Facts:
Aim: The challenge aims to ensure that water sources are tested at various locations, at different levels; thereby, helping the policy framers to design programs which address the water contamination issues.
What was the need of this challenge?
Drinking water supply in rural areas is from both from the groundwater (80%) and surface water (20%) sources. However, due to the depleting groundwater level, especially in arid and semi-arid regions, the use of surface water is on the rise.
Hence, for both groundwater and surface water based rural drinking water supply systems, it is important to measure relevant area-specific contaminations to ensure access to potable water.
Further, the Uniform Drinking Water Quality Protocol, 2019 has also specified some important parameters to be monitored for assuring portability of drinking water as per BIS IS 10500:2012 and subsequent amendments.
Additional Facts:
Jal Jeevan Mission: It aims to provide every rural household with functional household tap connections (FHTCs) with adequate quantity and of prescribed quality of water on a regular and long-term basis by 2024.
It is being implemented by the Department of Drinking Water and Sanitation under the Jal Shakti Ministry.
Key Features:

The mission implements source sustainability measures as mandatory elements, such as recharge and reuse through grey water management, water conservation, rain water harvesting.
The mission is based on a community approach to water and will include extensive Information, Education and communication as a key component of the mission.
Water quality testing is one of the priority areas under the mission. It also looks to create a jan andolan for water thereby making it everyone's priority.

Water Quality Parameters under Jal Jeevan Mission: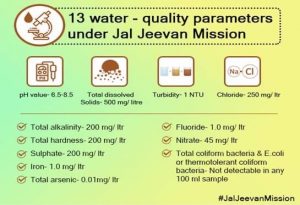 Explained: Singapore's beloved street hawker culture, now a Unesco 'Intangible Heritage'
News: Singapore's vibrant street hawker culture has been designated as an Intangible Cultural Heritage by the Unesco.The street hawker centres are representative of Singapore's multiculturalism with stalls selling cheap, delicious food of Chinese, Malay, Indian origins among others.
Facts:
Intangible cultural heritage: It means the traditions or living expressions inherited from our ancestors and passed through generations as a way of life.

These include oral traditions, performing arts, social practices, rituals, festive events, knowledge and practices concerning nature and the universe and the knowledge and skills to produce traditional crafts.

Convention for the Safeguarding of the Intangible Cultural Heritage : It was adopted by the United Nations Educational, Scientific and Cultural Organization (UNESCO) in 2003 and entered into force in 2006. India ratified it in 2007.
Purpose of the Convention

to safeguard the expressions of intangible cultural heritage that are endangered by the processes of globalization;
to ensure respect for the intangible cultural heritage of the communities, groups and individuals;
to raise awareness at the local, national and international levels of the importance of the intangible cultural heritage.

Intangible Cultural Heritage Sites from India: India has a total of 13 intangible cultural heritages included in the UNESCO Representative List of the Intangible Cultural Heritage of Humanity:

These include: Kutiyattam, the tradition of Vedic chanting, Ramlila, Ramman, Mudiyettu, Kalbelia folk songs and dances, Chauu Dance, Buddhist chanting of Ladakh, Sankritana, Craft of the Thatheras of Jandiala Guru, Nowruz, Yoga, and Kumbh Mela.
Bharatskills learning platform
News: Directorate General of Training(DGT) has joined hands with Microsoft and NASSCOM Foundation to provide digital content for ITI students and also future-ready employability skilling program via the Bharatskills portal.
Facts:
Bharatskills Portal: It is an online training platform launched by the Directorate General of Training(DGT) in 2019.
Purpose: It is a Central Repository for skills providing easy access for the trainees and trainers of the ITI ecosystem to access updated curriculums and course content of all courses.
The platform also presents a unique access to a centralized, scalable and a thriving support ecosystem through its industrial partners for the students and teachers who can now learn the newer Industrial Revolution(IR) 4.0 skills to meet the demands of the industry.
First set of data from Chandrayaan-2 released: ISRO
News: Indian Space Research Organisation(ISRO) has released the first set of data from Chandrayaan-2 Mission for the general public.
Facts:
Nodal Centre for Planetary Data: The Indian Space Science Data Centre(ISSDC) is the nodal centre of planetary data archive for the planetary missions of the ISRO.
Chandrayaan-2 data: The Chandrayaan-2 data are required to be in the Planetary Data System-4(PDS4) standard and required to be peer reviewed scientifically and technically before acceptance as PDS archives and declared ready for sharing with the global scientific community and the general public.

This activity has been completed and hence the first set of data from the Chandrayaan-2 mission is now being released for the wider public use through the PRADAN portal hosted by the ISSDC.

What does the data provide? The Orbiter, which carried eight experiments/payloads, all of which have been performing well and sending data received.
Additional Facts:
Chandrayaan-2: It is the second lunar exploration mission developed by the Indian Space Research Organisation (ISRO) after Chandrayaan-1.
Main Objective: To map and study the variations in lunar surface composition, as well as the location and abundance of lunar water.
Launch Vehicle: The mission was launched onboard India's most powerful launcher – GSLV MK-III M1.
Modules: The Chandrayaan-2 mission consisted of three main modules:

Orbiter carried eight scientific payloads for mapping the lunar surface and studying the exosphere (outer atmosphere) of the Moon.
Vikram lander carried three scientific payloads to conduct surface and subsurface science experiments.
A Lunar Rover named Pragyan carried two payloads to enhance our understanding of the lunar surface.

Note: The lander and rover were destroyed during the attempted landing in September, 2019.
Niti Aayog launches made-in India cloud storage service — DigiBoxx
News: Niti Aayog has launched a cloud storage service called DigiBoxx as part of the Atmanirbhar Bharat initiative.
Facts:
Digiboxx: It is India's first indigenous digital file storage and sharing platform that provides an easy and secure way to store all the files in one centralised location.
Key Features:

Like Google Drive and Apple's iCloud service, DigiBoxx will enable both individuals and enterprises to store, manage, collaborate, organise and share all their data online.
For Individuals the free Digiboxx offers 20GB of storage, a 2GB maximum file size, Gmail integration, and unlimited external collaborations, while the monthly plan comes with up to 5TB of storage and 10GB max file size.
For SMEs there is an 999 plan that provides up to 50TB storage with 10GB max file size, unlimited external collaborations, advanced real-time collaboration, web preview, automated backups, user management and Gmail integration. Additionally, for enterprises, there is a customised solution.
DigiBoxx is said to be hosted on an Indian server which means the data will be saved and encrypted in India itself.
DigiBoxx is available on the web and Android as of now with iOS support arriving soon.
IISER scientists identify the gene that greens plants
News: Researchers at the Indian Institute of Science Education and Research (IISER) have identified a gene called "BBX11".
Facts:
BBX11: It is a gene that facilitates in the greening of plants by playing a crucial role in regulating the levels of protochlorophyllide — an intermediate in the biosynthesis of the green pigment chlorophyll.
What is Chlorophyll? It is a pigment that gives plants their green color and it helps plants create their own food through photosynthesis ( a process by which light energy is converted to chemical energy through the synthesis of organic compounds).
Role of BBX11 in the Synthesis of Chlorophyll: The synthesis of chlorophyll in plants is a lengthy, multi-step process:
When a seedling emerges from under the soil it must quickly synthesize chlorophyll to start supporting its own growth.
In order to facilitate quick synthesis of chlorophyll, plants make a precursor of chlorophyll called 'protochlorophyllide' in the dark which glows red when blue light is shone on the plant.
As soon as the plant comes out into the light from under the soil, light-dependent enzymes convert protochlorophyllide to chlorophyll.
However, if there is excess of free protochlorophyllide, then exposure to light converts it into molecules that cause 'photobleaching'.
Thus, it is very important to regulate the amount of protochlorophyllide synthesized by the plant and here comes the vital plant played by the 'BBX11'
If it is less, plants are unable to efficiently 'green' in order to harvest sunlight. If the amount of protochlorophyllide is more, then plants bleach under the light.
Significance of the study: This study could have tremendous implications in the agriculture sector in tropical countries like India and can help provide leads to optimise plant growth under stressful and rapidly changing climatic conditions.