State of the Global Climate Report
News: The World Meteorological Organization(WMO) has released the annual State of Global Climate Report,2020 to keep a track of global warming.
Facts:
Key Highlights from the report:
Hottest Year: 2020 will be one of the three hottest years just behind 2016 and 2019.
Rise in Global Temperature: The global mean surface temperature for January-October 2020 was 1.2 degree Celsius higher than the pre-industrial baseline (1850-1900).For that period, 2020 is the second-warmest year on record.
High Temperature over Ocean Surfaces: 80% of ocean areas have experienced at least one marine heat wave (MHW) so far in 2020.
Global sea-level rise was also similar to 2019 value.This was mainly due to the increased melting of the ice sheets in Greenland and Antarctica.
Consequences: Extreme weather events such as tropical cyclones, floods, heavy rainfall and droughts were the consequence of global warming that impacted many parts of the world.
Additional Facts:
World Meteorological Organization(WMO): It is an intergovernmental organization established by the ratification of the WMO Convention in 1950.

Members: 193 Member States and Territories.
Significance: It is a specialized agency of the United Nations (UN).
Headquarters: Geneva, Switzerland.
Malayan Giant squirrel could vanish from NE after 2050: ZSI
News: Zoological Survey of India (ZSI) has projected that numbers of the Malayan Giant Squirrel could decline by 90% in India by 2050 and it could be extinct by then if urgent steps are not taken.
Facts: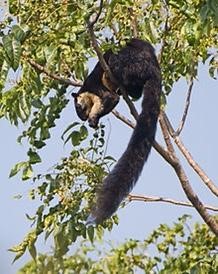 Malayan giant squirrel or Black Giant Squirrel: It is one of the world's largest squirrel species that has a dark upper body, pale under parts, and a long, bushy tail.
Habitat: It is distributed across Bangladesh, Northeast India, Nepal, Bhutan, China, Myanmar, Laos, Thailand, Malaysia, Cambodia, Vietnam, and Indonesia.
Significance: The giant squirrel is considered as a forest health indicator species.An indicator species provides information on the overall condition of the ecosystem and of other species in that ecosystem.
IUCN Status: Near Threatened
CITES: Appendix II.
Wildlife Protection Act, 1972: Schedule I
Threats: Deforestation, fragmentation of forests, crop cultivation and over-harvesting of food, illegal trade in wildlife, hunting for consumption. and Slash-and-burn jhum cultivation.
China turns on 'artificial sun'
News: China has successfully powered up its artificial sun nuclear fusion reactor named "HL-2M Tokamak reactor".
Facts:
HL-2M Tokamak reactor: It is China's largest and most advanced nuclear fusion experimental research device that can potentially unlock a powerful clean energy source.
It uses a powerful magnetic field to fuse hot plasma and can reach temperatures of over 150 million degrees Celsius approximately ten times hotter than the core of the sun.
Hence, the reactor is often called an "artificial sun" on account of the enormous heat and power it produces.
Additional Facts:
Nuclear Fusion: It is considered the Holy Grail of energy and is what powers our sun.It merges atomic nuclei to create massive amounts of energy — the opposite of the fission process used in atomic weapons and nuclear power plants which splits them into fragments.
Advantages of Fusion: Unlike fission, fusion emits no greenhouse gases and carries less risk of accidents or the theft of atomic material. But achieving fusion is both extremely difficult and prohibitively expensive.
Indian economy witnessing V-shaped recovery: Finance Ministry report
News: Finance Ministry's Monthly Economic Review report has stated that the Indian Economy is witnessing a V-shaped recovery as the decline in the GDP has narrowed to 7.5% in the second quarter of 2020-21 from 23.9% in April-June quarter.
Facts: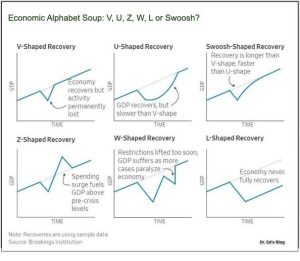 V-shaped recovery: It is characterized by a quick and sustained recovery in measures of economic performance after a sharp economic decline.
Significance: Because of the speed of economic adjustment and recovery in macroeconomic performance, a V-shaped recovery is a best case scenario given the recession.
Example: The recoveries that followed the recessions of 1920-21 and 1953 in the U.S. are examples of V-shaped recoveries.
Australian telescope maps three million galaxies in just 300 hours
News: The Australian Square Kilometre Array Pathfinder (ASKAP) has mapped about 3 million galaxies in just 300 hours.
Facts:
Australian Square Kilometre Array Pathfinder(ASKAP): It is a radio telescope array located at Murchison Radio-astronomy Observatory (MRO) in Australia.
Purpose: The telescope is designed to map the structure and evolution of the Universe which it does by observing galaxies and the hydrogen gas that they contain.
Operated by: It is operated by the Commonwealth Scientific and Industrial Research Organisation(CSIRO) and forms part of the Australia Telescope National Facility.
UN chief launches 3RF Framework
Facts: United Nations, European Union and World Bank have jointly launched the Reform, Recovery and Reconstruction Framework(3RF).The plan focuses on the immediate humanitarian response and the medium-term recovery and reconstruction efforts to put Lebanon on a path of sustainable development.
RBI monetary policy Explained: Why have rates been kept unchanged yet again?
News: Reserve Bank of India's(RBI) Monetary Policy Committee(MPC) has announced its bi-monthly monetary policy review for the month of December.
Facts:
Key Takeaways:
Repo Rate: It is the rate at which the RBI lends money to the banks for a short term.It remains unchanged at 4%.
Reverse Repo Rate: It is the short term borrowing rate at which RBI borrows money from banks.It remains unchanged at 3.35%
Marginal Standing facility: It is a window for banks to borrow from the Reserve Bank of India in an emergency situation when interbank liquidity dries up completely.It has remained unchanged at 4.25%.
Inflation: Inflation has remained consistently above the upper end of RBI's mandated 2-6% target range every month barring March,2020.
Growth Projection: RBI has revised its GDP growth expectation for 2020-21 to -7.5% from -9.5% which signals improvement.
Accommodative Stance: RBI has maintained an accommodative stance implying more rate cuts in the future if need arises to support the economy hit by the COVID-19 pandemic while ensuring inflation remains within the target.
Tighter Norms for UCBs and NBFCs: RBI has announced the introduction of risk-based internal audit norms for large urban cooperative banks(UCBs) and non-banking financial companies (NBFCs) as part of measures aimed at improving governance and assurance functions at supervised entities.
Additional Facts:
Monetary Policy Committee(MPC): It is a statutory committee of the Reserve Bank of India which consists of six members with three nominated by the Union government and three representing the RBI.It is mandated by law to ensure that retail inflation stays within a band of two percentage points of the target inflation rate of 4%.
Explained: Surgery as part of Ayurveda
News: Government of India has a notification listing out specific surgical procedures that a postgraduate medical student of Ayurveda must be practically trained to acquaint with as well as to independently perform.
Facts:
How far is surgery part of Ayurveda? There are two branches of surgery in Ayurveda — Shalya Tantra which refers to general surgery, and Shalakya Tantra which pertains to surgeries related to the eyes, ears, nose, throat and teeth.All postgraduate students of Ayurveda study these courses and become Ayurveda surgeons.
Earlier Regulations for Postgraduate students in Ayurveda: They are guided by the Indian Medical Central Council (Post Graduate Education) Regulations,2016.The regulations allow postgraduate students to specialise in three disciplines of surgery namely Shalya Tantra, Shalakya Tantra, and Prasuti evam Stree Roga (Obstetrics and Gynecology).
What is the change? Ayurveda practitioners say the notification just brings clarity to the skills that an Ayurveda practitioner possesses.The surgeries that have been mentioned are all that are already part of the Ayurveda course.But there is little awareness about these.
Indian Medical Association's(IMA) objections: IMA insist that they are not opposed to the practitioners of the ancient system of medicine.But the notification gives the impression that the skills or training of the Ayurveda doctor in performing modern surgeries are the same as those practising modern medicine. This is misleading and an encroachment into the jurisdiction and competencies of modern medicine.