Climate Change Performance Index(CCPI)
News: Climate Change Performance Index(CCPI) 2021 has been released.
Facts:
Released by: The index has been developed by not-for-profit organizations Germanwatch and NewClimate Institute (Germany) together with the Climate Action Network(CAN International).
Objective: It is an important tool to enhance transparency in international climate politics and enables comparison of climate protection efforts and progress made by individual countries.
Parameters: The index is prepared by assessing performances of 57 countries and European Union in four categories – GHG emissions (40%), renewable energy (20%), energy use (20%) and climate policy (20%).
Key Takeaways: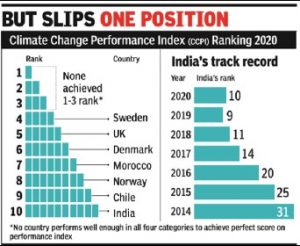 Top ranking: Sweden (4th place) remains an international frontrunner in climate protection for the fourth year in a row.
India: India has dropped by one position from ninth in 2019 to 10th in 2020. However, India's journey towards climate protection has been consistent with it improving its ranking from 31st in 2014.
China and US:The biggest current emitter of greenhouse gases(GHG) China figures at 33rd rank while the largest historical polluter USA appears at the bottom (61st) on the list.
G20: Only two G20 countries – the UK and India – are among the high rankers while six others – the USA, Saudi Arabia, Canada, Australia, South Korea and Russia (52nd) – are at the bottom of the index.
Gwalior, Orchha on UNESCO World Heritage City List
News: The historical fort cities of Gwalior and Orchha in Madhya Pradesh have been included in the list of UNESCO's world heritage cities urban landscape city programme.
Facts:
Gwalior: It was established in the 9th century and ruled by Gurjar Pratihar Rajvansh, Tomar, Baghel Kachvaho and Scindias.The city is known for its palaces and temples, including the intricately carved Sas Bahu Ka Mandir temple.

The Gwalior Fort occupies a sandstone plateau overlooking the city and is accessed via a winding road lined with sacred Jain statues.Within the fort's high walls is the 15th-century Gujari Mahal Palace, now an archaeological museum.

Orchha: It is popular for its temples and palaces and was the capital of the Bundela kingdom in the 16th century.The famous spots in the town are Raj Mahal, Jehangir Mahal, Ramraja Temple, Rai Praveen Mahal, and Laxminarayan Mandir.
Additional Facts:
UNESCO World Heritage Cities Programme: It is one of six thematic programmes formally approved and monitored by the UNESCO World Heritage Committee.
Aim: To assist States Parties in the challenges of protecting and managing their urban heritage.
Urban Landscape City Programme: It was adopted in 2011 at UNESCO's General Conference.This programme approach to managing historic urban landscapes is holistic by integrating the goals of urban heritage conservation and those of social and economic development.
Explained: Who are the Tharu tribals?
News: Uttar Pradesh government has embarked upon a scheme to take the unique culture of its ethnic Tharu tribe across the world.The intention is to put Tharu villages on the tourism map and to create jobs and bring economic independence to the tribal population.
Facts:
Tharu: They are an ethnic group indigenous to the Terai in southern Nepal and northern India.
Origin: The word tharu is believed to be derived from sthavir, meaning followers of Theravada Buddhism.
Worship: They worship Lord Shiva as Mahadev, and call their supreme being "Narayan", who they believe is the provider of sunshine, rain, and harvests.
Occupation: Most of them are forest dwellers and some practice agriculture.
Language: They speak various dialects of Tharu, a language of the Indo-Aryan subgroup, and variants of Hindi, Urdu and Awadhi. In central Nepal, they speak a variant of Bhojpuri, while in eastern Nepal, they speak a variant of Maithili.
Additional Facts:
Theravada Buddhism: The name means 'the doctrine of the elders' – the elders being the senior Buddhist monks.It is strongest in Sri Lanka, Cambodia, Thailand, Laos and Myanmar. It is sometimes called 'Southern Buddhism'.
Indian Railways to use LIDAR Technique for ground survey
News: National High Speed Rail Corporation Limited is adopting Light Detection and Ranging Survey(LiDAR) technique for conducting ground survey for the proposed Delhi-Varanasi High Speed Rail(HSR) corridor.
Facts:
LiDAR (Light Detection and Ranging): It is a remote sensing method that uses light in the form of a pulsed laser to measure ranges & variable distances.
Working: These light pulses combined with other data recorded by the airborne system generate precise, three-dimensional information about the shape of the Earth and its surface characteristics.
Instrument: LiDAR instrument principally consists of a laser, a scanner, and a specialized GPS receiver. Airplanes and helicopters are the most commonly used platforms for acquiring LiDAR data over broad areas.
Applications: LiDAR is used for agriculture, hydrology and water management systems, geology-related applications and also in archaeology.
UN makes December 27 'Epidemic Preparedness' day
News: The United Nations General Assembly has approved a resolution proclaiming December 27 as the International Day of Epidemic Preparedness.
Facts:
Aim: To ensure the transmission and exchange of information, scientific knowledge and best practices on preventing and responding to epidemics locally, nationally, regionally and internationally.
Additional Facts:
Epidemic: It is an event in which a disease is actively spreading. Usually,this is an outbreak that has grown out of control but is often within one country or location.
Endemic: It refers to the constant presence and/or usual prevalence of a disease or infectious agent in a population within a geographic area.
Pandemic: It is an epidemic occurring worldwide or over a very wide area crossing international boundaries and usually affecting a large number of people.
CO-WIN mobile app for COVID vaccine delivery
News: Union Health Ministry has developed a digital platform and mobile app called CO-WIN.
Facts:
Aim: To monitor the entire vaccination process by providing real-time monitoring of COVID-19 vaccine delivery, recording data and to enable people to get themselves registered for vaccination.
Smuggling in India Report 2019-20
News: Union Finance Minister released the Smuggling in India Report 2019-20.
Facts:
Prepared by: The report has been compiled by the Directorate of Revenue Intelligence (DRI).
Aim: To analyse organised smuggling trends on Gold and Foreign Currency, Narcotic Drugs, Security, Environment and Commercial Frauds.
Key Takeaways:
The Directorate of Revenue Intelligence detected 412 cases of smuggling resulting in the seizure worth ₹1,949 crore in 2019-20. It arrested 837 economic offenders and also unearthed 761 complex cases of Customs duty evasion amounting to ₹2,183 crore.
Additional Facts:
Directorate of Revenue Intelligence(DRI): It is the apex anti-smuggling agency of India working under the Central Board of Indirect Taxes & Customs, Ministry of Finance, Government of India.