United Nations Investment Promotion Award 2020
News: United Nations Conference on Trade and Development(UNCTAD) has declared Invest India as the winner of the United Nations Investment Promotion Award.
Facts:
United Nations Investment Promotion Award: It is the most coveted award for Investment Promotion Agencies given by the United Nations Conference on Trade and Development(UNCTAD).
Purpose: The award recognizes and celebrates the outstanding achievements and best practices of Investment Promotion Agencies (IPAs) across the globe.
Additional Facts:
Invest India: It was set up in 2009 as a non-profit venture under the Department for Promotion of Industry and Internal Trade, Ministry of Commerce and Industry.It is the National Investment Promotion and Facilitation Agency of India and acts as the first point of reference for investors in India.
Business Immunity Platform: It was launched by Invest India to provide a comprehensive resource to help businesses and investors get real-time updates on India's active response to COVID-19 (Coronavirus).
Upgraded Akash missile successfully test-fired
News: Indian Air Force has successfully test-fired the Akash Missiles at Suryalanka test firing range in Andhra Pradesh.
Facts:
Akash Missile: It is a medium-range mobile surface-to-air missile defense system developed by the Defence Research and Development Organisation (DRDO) and manufactured by Bharat Dynamics Limited(BDL).
Used by: It is an indigenously made missile inducted into the Indian Army and Air Force.
Range: The missile has the capability to engage aerial threats upto the maximum range of 25 km and up to an altitude of 18 km operating at a speed range of 1.8 to 2.5 Mach.
News: IIT-Bombay researchers have released an Urban Quality of Life Index.
Facts:
About the Index: The index has compared the quality of life in various cities in India and ranked them on the basis of various categories such as water, power, electricity, literacy rate, employment rate among others. For the first time, the index has factored in gender parity.
Key Takeaways: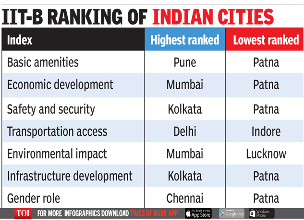 Mumbai has topped the index followed by Delhi, Kolkata and Chennai.
Among Gender Parity, Chennai is the most women-friendly city and Patna the least.
Jaipur has the highest crime rate against women and Chennai recorded the lowest crime against women.
The gap in literacy rate between men and women is the widest in Jaipur (13.2%) and lowest in Kolkata (5.4%).Literacy was the highest in Pune (91%) and the lowest in Hyderabad (83%).
The unemployment levels for women in Patna is higher than the other cities, the gap stood at 346 which is four times the urban average score of 73.
Explained: Himachal Pradesh wants GI status for five products
News: Himachal Pradesh government is trying to obtain GIs (Geographical Indication) for five products from the state.
Facts:
The Five Products are:
Karsog Kulth: Kulthi or Kulth (horse gram) is a legume grown as a kharif crop in Himachal Pradesh. Kulth grown in the Karsog area of Mandi district is believed to be particularly rich in amino acids.
Pangi ki Thangi: It is a type of hazelnut which grows in Pangi valley located in the north-western edge of Himachal. It is known for its unique flavour and sweetness.
Chamba metal crafts: These include items such as metal idols and brass utensils which, historically, were made by skilled artisans in the courts of kings of Chamba. There are efforts to revive the trade, and a plate made from a brass-like alloy and having carvings of gods and goddesses is still popular.
Chamba Chukh: It's a chutney made from green and red chillies grown in Chamba and prepared in traditional and unique ways.The practice has largely declined in rural households of Chamba, but survives to some extent at the small-scale industrial level.
Bharmouri Rajmah: It's more specifically called the Kugtalu Rajmah, since it grows in the area around Kugti Pass in the Bharmour region of Chamba district. It is rich in proteins and has a unique flavour.
Additional Facts:
What is a Geographical Indication? The World Intellectual Property Organisation defines a GI as a sign used on products that have a specific geographical origin and possess qualities or a reputation that are due to that origin.
How many registered GIs does Himachal currently have? These include four handicrafts (Kullu Shawl, Chamba Rumal, Kinnauri Shawl and Kangra Paintings), three agricultural products (Kangra Tea, Basmati and Himachali Kala Zeera) and one manufactured product (Himachali Chuli Oil).
UN removes cannabis from 'most dangerous drug' category
News: United Nations Commission on Narcotic Drugs(CND) has voted to remove cannabis and cannabis resin from Schedule IV of the 1961 Single Convention on Narcotic Drugs.
Facts:
Earlier Status: Cannabis was a part of both Schedule I and IV of the UN's Single Convention on Narcotic Drugs — and while drugs in Schedule I can be used for medicinal purposes with state consent, drugs in Schedule IV are strictly controlled and their usage is a criminal offence.
Present Status: Now, both cannabis and cannabis resin will only remain on Schedule I which includes the least dangerous category of substances.
Status in India: Currently in India, the Narcotic Drugs and Psychotropic Substances (NDPS) Act, 1985, illegalises any mixture with or without any neutral material of any of the two forms of cannabis – charas and ganja — or any drink prepared from it.
Significance: This decision has opened the door to recognizing the medicinal and therapeutic potential of cannabis.
Additional Facts:
Cannabis: It is a generic term used to denote the several psychoactive preparations of the plant Cannabis sativa.According to WHO, cannabis is by far the most widely cultivated, trafficked and abused illicit drug in the world.
Commission on Narcotic Drugs: It is the UN agency mandated to decide on the scope of control of substances by placing them in the schedules of global drug control conventions.It was founded in 1946 and is headquartered in Vienna,Austria.
Single Convention on Narcotic Drugs of 1961: It is an international treaty to prohibit production and supply of specific (nominally narcotic) drugs and of drugs with similar effects except under licence for specific purposes, such as medical treatment and research.India is a party to the convention.
Explained: What is Havana Syndrome?
News: National Academies of Sciences(NAS) has found microwave radiation to be the cause for the "Havana syndrome".
Facts:
Havana Syndrome: In 2016, US diplomats in Havana reported feeling ill after hearing strange sounds and experiencing odd physical sensations in their hotel rooms or homes.The symptoms included nausea, severe headaches, fatigue, dizziness, sleep problems, and hearing loss which have since come to be known as "Havana Syndrome".
Microwave weapons: These are supposed to be a type of direct energy weapons which aim highly focused energy in the form of sonic, laser, or microwaves, at a target.

Effects: People exposed to high-intensity microwave pulses have reported a clicking or buzzing sound, as if seeming to be coming from within your head.It can have both acute and long-term effects without leaving signs of physical damage.
Explained: What are Eco-ducts or Eco-bridges?
News: Ramnagar Forest Division in Nainital district,Uttarakhand has recently built its first eco-bridge for reptiles and smaller mammals.
Facts: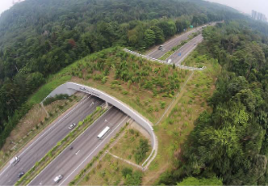 Eco-ducts or Eco-bridges: These are areas of wildlife habitat that aim to enhance wildlife connectivity that can be disrupted because of highways or logging.Usually these bridges are overlaid with planting from the area to give it a contiguous look with the landscape.
Types of Eco-bridges: It includes canopy bridges (usually for monkeys, squirrels and other arboreal species); concrete underpasses or overpass tunnels or viaducts (usually for larger animals); and amphibian tunnels or culverts.
Significance: Eco-bridges play a very important role in maintaining connections between animal and plant populations that would otherwise be isolated and therefore at greater risk of local extinction.
US, China dominated arms market in 2019: SIPRI
News: Stockholm International Peace Research Institute(SIPRI) has released a report on the global arms market.
Facts:
Key Takeaways:
The total sales by the Top 25 arms manufacturers rose by 8.5% to $361 billion or 50 times the annual budget of the UN's peacekeeping operations.
S and Chinese companies dominated the global arms market in 2019 with American firms accounting for 61% of sales ahead of China's 15.7%.
For the first time, West Asia made its appearance among the 25 biggest weapons manufacturers.
Additional Facts:
SIPRI: It is an independent international institute established in 1966 in Stockholm, Sweden.It is dedicated to research into conflict, armaments, arms control and disarmament.