Explained: How has the Supreme Court interpreted Article 32 over the years?
News: The Supreme Court Bench headed by Chief Justice of India has observed that it is trying to discourage individuals from filing petitions under Article 32 of the Constitution.
Facts:
Article 32: It falls under Part III of the Constitution that includes the fundamental rights of individuals.It allows an individual to approach the Supreme Court if he or she believes that his or her fundamental rights have been violated or they need to be enforced.
Significance of Article 32: During the Constituent Assembly debates in 1948, Dr B R Ambedkar had called Article 32 as the soul and heart of the Constitution.
Types of Writs:

Habeas corpus (related to personal liberty in cases of illegal detentions and wrongful arrests)
Mandamus — directing public officials, governments, courts to perform a statutory duty;
Quo warranto — to show by what warrant is a person holding public office;
Prohibition — directing judicial or quasi-judicial authorities to stop proceedings which it has no jurisdiction for; and
Certiorari — re-examination of an order given by judicial, quasi-judicial or administrative authorities.

Violation of fundamental rights? When it comes to violation of fundamental rights, an individual can approach the High Court under Article 226 and Supreme Court directly under Article 32.Article 226, however, is not a fundamental right like Article 32.
Supreme Court Observations on Article 32:

Romesh Thappar vs State of Madras(1950): The Supreme Court has observed that Article 32 provides a guaranteed remedy for the enforcement of fundamental rights.
Jabalpur vs S S Shukla (1976): During the Emergency, in Additional District Magistrate, the Supreme Court had said that the citizen loses his right to approach the court under Article 32.
News: The Prime Minister of India has virtually attended the 12th BRICS Summit.
Facts:
Host: The summit has been chaired by Russia.
Theme: "Global Stability, Shared Security and Innovative Growth"
Key Takeaways:
BRICS counter-terrorism Strategy: The strategy is based on the following principles:

full respect for the sovereignty of the participating countries and noninterference in their internal affairs;
commitment to the principles of international law and recognition of the central and coordinating role of the United Nations on the issues of peace and security;
recognition of the role of regional organizations in countering the threat of terrorism;
need for all States to refrain from organizing, facilitating, financing, encouraging or tolerating terrorist activities.
due consideration of national interests and priorities
adoption of a comprehensive approach to combating terrorism.
Additional Facts: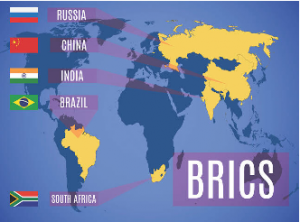 BRICS: It is the acronym coined for an association of five major emerging national economies: Brazil, Russia, India, China and South Africa.
Origin: The acronym "BRIC" was initially formulated in 2001 by economist Jim O'Neill, of Goldman Sach.In 2010, South Africa was invited to join BRIC after which the group adopted the acronym BRICS.
Chairmanship: The Chairmanship of the forum is rotated annually among the members, in accordance with the acronym B-R-I-C-S.
Significance: Brics brings together five major emerging economies comprising 41% of the world's population, having 24% of the global GDP and around 17% of the share in world trade.
World Antimicrobial Awareness Week 2020
News: The World Health Organization(WHO) has announced that it will be celebrating Antimicrobial Awareness Week between November 18, 2020 and November 24, 2020.
Facts:
Antimicrobial resistance(AMR): It occurs when bacteria, viruses, fungi, and parasites resist the effects of medications making common infections harder to treat and increasing the risk of disease spread, severe illness and death.
Factors: Overuse of medicines in humans, livestock and agriculture as well as poor access to clean water, sanitation and hygiene have accelerated the threat of antimicrobial resistance worldwide.
Additional Facts:
Global AMR Research and development(R&D) Hub:It was launched in 2018 as a partnership of countries, non-governmental donor organisations & intergovernmental organisations to address challenges and improve coordination and collaboration in global AMR R&D using a One Health approach.
AWaRe tool: It was developed by WHO to contain rising resistance and make antibiotic use safer and more effective by providing guidelines (over the effective use of antibiotics) to the policy-makers and health workers.
Classification: It classifies antibiotics into three groups:

Access— antibiotics used to treat the most common and serious infections.
Watch— antibiotics available at all times in the healthcare system.
Reserve— antibiotics to be used sparingly or preserved and used only as a last resort.
RBI sets up Reserve Bank Innovation Hub(RBIH)
News: Reserve Bank of India(RBI) has announced the setting up of an Innovation Hub under the chairmanship of Kris Gopalakrishnan.It has also selected two entities for testing products under regulatory sandbox structure.
Facts:
Aim: To create an ecosystem that would focus on promoting access to financial services and products and will also promote financial inclusion.
Features:

The Hub will collaborate with financial sector institutions, technology industry and academic institutions and coordinate efforts for exchange of ideas and development of prototypes related to financial innovations.
It would also develop internal infrastructure to promote fintech research and facilitate engagement with innovators and start-ups.
Additional Facts:
Regulatory Sandbox: It is an infrastructure that helps financial technology (FinTech) players live test their products or solutions before getting the necessary regulatory approvals for a mass launch.
Prime Minister inaugurates Statue of Peace
News: The Prime Minister has unveiled the 'Statue of Peace' located at Pali, Rajasthan.
Facts:
Statue of Peace: It was unveiled in the honour of the Vijay Vallabh Surishwer Ji Maharaj, a Jain Monk.
Features: The statue has been made from Ashtadhatu i.e. 8 metals with Copper being the major constituent.
Additional Facts:
Shree Vijay Vallabh Surishwer: He was a Jain saint who lived from 1870 to 1954.
He actively supported the movement for Independence and had worked in the cause of the Swadeshi movement.
Union Minister of Education launches Lilavati Award-2020
News: Union Minister of Education has virtually launched the Lilavati Award-2020.
Facts:
Lilavati Award: It is an initiative of the All India Council for Technical Education(AICTE) with the aim to recognise efforts by AICTE-approved institutions to treat women with 'equality and fairness'.
Objective: To create awareness about issues like sanitation, hygiene, health, nutrition, literacy, employment, technology, credit, marketing, innovation, skill development, natural resources and rights among women.
Categories: The award will be given in seven categories: women health, self defence, sanitation and hygiene, literacy, women entrepreneurship, and legal awareness.
Massive Asteroid 'Apophis' May Hit Earth in 2068, Says Astronomers
News: Astronomers have revealed that a large asteroid named 'Apophis' is expected to pass extremely close or may hit the Earth in 2068 due to a phenomenon called Yarkovsky effect.
Facts:
Yarkovsky effect: It is an effect during which the sun can heat an asteroid in a non-uniform way causing the space rock to radiate heat energy asymmetrically.This can cause a thrust or a tiny push in a certain direction sometimes changing the path of the asteroid.
Additional Facts:
Asteroid: They are small, rocky objects that orbit the Sun.Although asteroids orbit the Sun like planets, they are much smaller than planets.