Lonar lake, Sur Sarovar declared as Ramsar sites
News: : India has named Lonar lake and Sur Sarovar lake as wetlands of international importance under the Ramsar Convention.
Facts:
Lonar Lake:
It is a notified National Geo Heritage Monument located at Lonar, Maharashtra.
Formation: The lake is believed to have been formed when a meteorite crashed into Earth around 50,000 years ago.The lake sits inside the Deccan Plateau- a massive plain of volcanic basalt rock created by eruptions some 65 million years ago.
Significance: The lake is mentioned in ancient scripts like the Skanda Purana, the Padma Purana and the Ain-i-Akbari.
Soor Sarovar Lake:
It is also known as Keetham lake and is situated alongside river Yamuna in Agra,Uttar Pradesh.
The lake is situated within the Soor Sarovar Bird Sanctuary which was declared as a bird sanctuary in the year 1991.It also has a Bear Rescue centre for rescued dancing bears.
Additional Facts:
Wetland Sites in India: India now has a total of 41 wetlands that are recognised as Ramsar sites which is the highest in South Asia.
Ramsar Convention: It is an intergovernmental treaty which provides the framework for national action and international cooperation for the conservation and wise use of wetlands and their resources.
Montreux Record: It is a register of wetland sites on the List of Ramsar wetlands of international importance. It shows such sites where there has been or likely to be adverse ecological changes due to anthropogenic activities. Indian sites in the Montreux Record are Keoladeo National Park (Rajasthan), Loktak Lake (Manipur).
News: India's External Affairs Minister has represented India at the 15th East Asia Summit(EAS).
Facts:
The summit was chaired by the Prime Minister of Vietnam.
During the summit, countries adopted the Ha Noi Declaration and discussed ways to strengthen the EAS platform and make it more responsive to emerging challenges.
Additional Facts: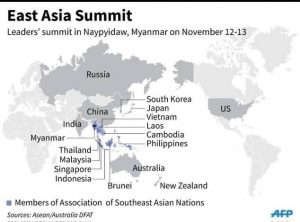 East Asia Summit: It was established in 2005.It is a premier forum in the Asia-Pacific region dealing with issues relating to security and defence.
Members: It comprises the ten member states of the ASEAN countries along with 8 members Australia, China, Japan, India, New Zealand, the Republic of Korea, Russia and the United States.India is a founding member of the East Asia Summit.
Priority Areas: There are six priority areas of regional cooperation within the framework of the EAS which are a) Environment and Energy b) Education c) Finance d) Global Health Issues and Pandemic Diseases e) Natural Disaster Management and f) ASEAN Connectivity.
Significance: The members of the EAS together represent 54% of the world population and account for 58% of the global GDP.
Explained: What is mRNA vaccine?
News: Moderna and Pfizer have announced the results of the COVID vaccines. These vaccines use the same technology, based on messenger RNA or mRNA.
Facts: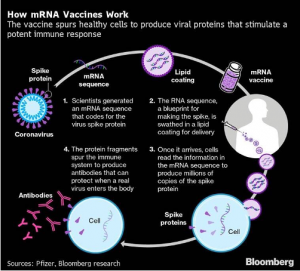 How mRNA or messenger RNA Vaccine works? It works by giving the body instructions to produce a spike protein which is present on the surface of the coronavirus.
In turn, this is expected to prompt the immune cells to create antibodies to fight it.These antibodies will remain in the blood and fight the real virus if and when it infects the human body.
Additional Facts:
Other Technologies to develop vaccine:

News: Ministry of Electronics & Information Technology (MeitY) has released the Draft Data Centre Policy,2020.
Facts:
Aim: Making India a Global Data Centre hub, promote investment in the sector, propel digital economy growth, enable provisioning of trusted hosting infrastructure to fulfil the growing demand of the country and facilitate state of the art service delivery to citizens.
Key Features of the Policy:
Infrastructure Status: Provide Infrastructure Status to the Data Centre Sector at par with other sectors like Railways, Roadways and Power.
Single Window Clearance: A single-window, time-bound clearance system for all the approvals required to set up a data-centre park.
Incentivization Scheme: Formulation of Data Centre Incentivization Scheme (DCIS) which will specify the intended beneficiaries, applicability criteria and fiscal and non-fiscal incentives for the sector.
Essential Service: Data centres will be declared as an Essential Service under "The Essential Services Maintenance Act, 1968 (ESMA)" which means that there would be a continuity of services even during times of calamities or crisis.
Inter-Ministerial Empowered Committee(IMEC): It would be set up under the Chairmanship of Secretary, MeitY with participation from various Central Ministries and State Governments to facilitate the implementation of various measures in the sector.
Data Centre Industry Council(DCIC): An independent Data Centre Industry Council(DCIC) is proposed to be set up which would act as an interface between the sector and the Government.
Training: Collaboration with the Ministry of Skills Development and Entrepreneurship(MSDE) and leading academic institutes to impart training to workforce on Data Centre, Digital and Cloud technologies, and facilitate sector linkages for such trained workforce.
Additional Facts:
Data Centre: It is a dedicated secure space within a building where computing and networking equipment is concentrated for the purpose of collecting, storing, processing, distributing or allowing access to large amounts of data.
Data Centre Parks: These are specialized secure Data Zone located with the most conducive non-IT and IT infrastructure and regulatory environment for housing mix of small scale / large scale / clusters of Data Centres to serve the high needs of compute, storage, networking and provision of a wide range of data-related services.
GAIL completes Kochi-Mangalore pipeline
News: Gas Authority of India Limited(GAIL) has completed the Kochi-Mangaluru natural gas pipeline project.
Facts: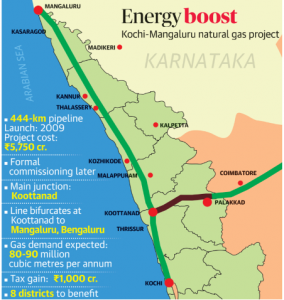 Kochi-Mangalore natural gas pipeline project: It is a 444-km-long natural gas pipeline launched in 2009.The pipeline will supply gas to all seven districts it passes through Kerala and the hilly Wayanad district.
First ever vaccine listed under WHO emergency use
News: World Health Organization(WHO) has listed the nOPV2 vaccine under Emergency Use Listing(EUL).
Facts:
nOPV2 vaccine: It has been produced by Indonesia's Bio Farma PT.It is aimed at containing vaccine-derived polio viruses in several African and East Mediterranean countries.
Significance: It is the first vaccine to be listed under Emergency Use Listing(EUL).
Additional Facts:
Emergency Use Listing(EUL): It is a procedure by WHO that assesses the suitability of yet to be licensed health products during public health emergencies, such as polio and COVID.The objective is to make these medicines, vaccines and diagnostics available faster to address the emergency.
What is a vaccine-derived poliovirus? It is a strain of the weakened poliovirus that was initially included in oral polio vaccine(OPV) and that has changed over time and behaves more like the wild or naturally occurring virus.
Explained: What is the Atlantic Ocean's largest protected marine reserve?
News: Tristan da Cunha has been declared as the largest Marine Protection Zone of the Atlantic Ocean.
Facts: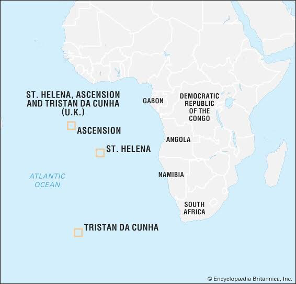 Tristan da Cunha: It is an isolated UK Overseas Territory located 6,000 miles from London in the South Atlantic Ocean.
The island is inhabited by less than 300 humans and the water around the islands is considered to be the richest in the world.It is also home to the World Heritage Site of Gough and Inaccessible Islands,which is one of the most important seabird islands in the world.