AYUSH Ministry and Invest India to jointly set up "Strategic Policy & Facilitation Bureau"
News: Ministry of AYUSH and Invest India has formed a collaboration to set up a "Strategic Policy & Facilitation Bureau(SPFB)".
Facts:
Aim: To facilitate planned, systematic growth and investment in the AYUSH(Ayurveda, Yoga and Naturopathy, Unani, Siddha and Homoeopathy) sector.
Functions: The activities to be undertaken by the SPFB would include :

Knowledge Creation and Management,
Strategic & Policy-Making Support,
Undertaking State Policy benchmarking to formulate uniform guidelines/regulations regarding AYUSH sector in India,
Investment Facilitation: Follow up and facilitation of investment cases and MoUs, and coordination among different Department, organisations and States.
Issue Resolution: Invest India would work with companies and other institutions on issue resolution across States and among various sub-sectors.
Additional Facts:
Invest India:It was set up in 2009 as a non-profit venture under the Department for Promotion of Industry and Internal Trade, Ministry of Commerce and Industry.It is the National Investment Promotion and Facilitation Agency of India and acts as the first point of reference for investors in India.
NITI Aayog releases draft Act, rules for states on land titling
News: NITI Aayog has released the draft model Act and rules for states for regulation on conclusive land titling.
Facts:
Aim: To reduce land-related litigations and improved land acquisition for infrastructure projects.
Key Provisions of the rules:
State governments will have the power to order for establishment, administration and management of a system of title registration of immovable properties.
Any person aggrieved by the Record of Titles may file an objection in the Register Office within three years from the date of notification.
Following this, the Title Registration Officer shall make an entry to that effect in Register of Titles and in the Register of Disputes and refer the case to the land dispute resolution officer.
A party aggrieved with an order of the land dispute resolution officer may file an appeal before the Land Titling Appellate Tribunal within 30 days of passing of such an order.
A special bench of High court shall be designated to deal with appeals against the orders passed by the Land Titling Appellate Tribunal.
Additional Facts:
Land title: It is a document that determines the ownership of land or an immovable property.
Why are Land Titles in India unclear? Land titles in India are unclear because of various reasons.These include:

The system of land records was inherited from the zamindari system
Legal framework in India does not provide for guaranteed ownership and
Manner in which information pertaining to land records is collected and maintained further exacerbates the gaps in these records.
Union Minister inaugurates Mansar Lake Development Plan in Jammu
News: Union Minister of North Eastern Region (DoNER) has inaugurated the Comprehensive Mansar Lake Rejuvenation/Development Plan.
Facts:
Mansar Lake Rejuvenation Plan: It is a comprehensive plan that aims to holistically develop the sacred Lake of Manser as the second biggest tourist destination in Jammu region and also to preserve the lake, its ecology and heritage.
Additional Facts:
Mansar Lake: It is situated 62 km from Jammu.It is a lake fringed by forest-covered hills.Surinsar-Mansar Lakes was designated under Ramsar Convention in 2005.
New wage code bars bonus for those facing sex abuse charges
News: According to a provision in the Code on Wages 2019, 'conviction for sexual harassment' can be a ground for denying bonus payouts to employees.
Facts:
What does the code provide? The code says that an employee shall be disqualified from receiving bonus if he is dismissed from service for fraud or riotous or violent behaviour while on the premises of the establishment or theft, misappropriation or sabotage of any property of the establishment or conviction for sexual harassment.
What does the current law provide? The current law says that only reasons for which bonus dues can be barred are for fraud, violent behaviour, theft, misappropriation or sabotage and violent conduct.
Significance: This will make employees more careful of their conduct and serves as an additional deterrent apart from the Prevention of Sexual Harassment(PoSH) law of 2013.
Additional Facts:
Code on wages, 2019: It has amended and consolidated four labour laws relating to wages, bonus and related matters which includes:

Payment of Wages Act,1936
Minimum Wages Act,1948
Payment of Bonus Act,1965 and
Equal Remuneration Act,1976.

PoSH Act,2013: The act aims to prevent and protect women against sexual harassment at workplace and to ensure effective redressal of complaints of sexual harassment.
As per the act:

Firms are required to form an Internal Complaints Committee (ICC) to inquire into complaints.
The Committee is required to make recommendations to employers on the action required pursuant to its inquiry in such complaints.If the ICC upholds a complaint, it can be construed as a conviction.
ICC also has the powers to decide if someone is guilty and report it further to the police, though not all sexual harassment cases translate into a police case.
IIT Bombay launches a self- help website- Bandhu
News: The Union Minister of State for Education has launched a website titled "Bandhu".
Facts:
Bandhu: It is a self-help website dedicated to support the emotional well-being of the students of IIT Bombay and inspire them in dealing with various challenges positively.
Election Commission revokes Congress Leader's Star Campaigner Status
News: Election Commission of India has revoked the Status of Congress leader Kamal Nath as a star campaigner for the party for repeated violation of Model Code of Conduct p(MCC) and for completely disregarding the advisory issued to EC.
Facts:
Star Campaigner: It can be described as persons who are nominated by parties to campaign in a given set of Constituencies.However, there are no specific definitions according to law or the Election Commission of India.
Benefits: The expenditure incurred on campaigning by such campaigners is exempt from being added to the election expenditure of a candidate.However, this only applies when a star campaigner limits herself to a general campaign for the political party he or she represents.
Revised Norms: Election Commission has revised norms for star campaigners for polls during the Covid-19 pandemic. As per revised norms, a recognised political party can now have only 30-star campaigners(Earlier 40) and an unrecognised (but registered) political party can have 15(Earlier 20).
Additional Facts:
Model Code of Conduct (MCC): These are the guidelines issued by the Election Commission of India for the conduct of political parties and candidates during elections.It comes into force immediately on the announcement of the election schedule by the commission and remains in force till the end of the electoral process.
Pakistan announces provincial status for Gilgit-Baltistan
News: Pakistan Prime Minister has officially announced to convert the disputed territory of Gilgit Baltistan (GB) into a full-fledged province.
Facts: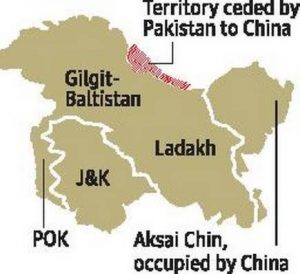 Gilgit Baltistan: It is a region administered by Pakistan as an administrative territory.It borders Azad Kashmir to the south, Afghanistan to the north, China to the east and India to the southeast.
Background: It was handed over to Pakistan in 1947 by the British army officer of the rank of Colonel who imprisoned Maharaja Hari Singh's governor in the region and handed over the area for accession to Pakistan.
Significance: It has a strategic location as it provides land access to China, contains vast reservoirs of fresh water and the China-Pakistan Economic Corridor(CPEC) passes through it.
Why has India protested against this move? India has maintained Gilgit Baltistan region as one of the two parts of Pakistan Occupied Kashmir(PoK).The other one is Azad Jammu and Kashmir (AJK).
Additional Facts:
Other Developments by Pakistan in POK:
Diamer-Bhasha Dam: It is located on the Indus River in northern Pakistan between Kohistan district in Khyber Pakhtunkhwa and Diamer district in Gilgit Baltistan.It is being built with the help of China.
Azad Pattan hydel power project: It is a 700 MW hydroelectric project on the Jhelum River in Pakistan Occupied Kashmir(PoK).
Kohala hydropower project: It is a Hydroelectric power project to be built on the Jhelum river.It is being set up by China under China-Pakistan Economic Corridor(CPEC).