Three UN organisations launch a new global coalition of global leaders to tackle AMR
News: Food and Agriculture Organization (FAO), World Organisation for Animal Health (OIE) and the World Health Organization (WHO) has launched a global group called 'One Health Global Leaders Group on Antimicrobial Resistance (AMR)'.
Facts:
Aim: To harness the leadership and influence of world-renowned figures to catalyze global attention and action to preserve antimicrobial medicines and avert the disastrous consequences of antimicrobial resistance.
Mandate:

To monitor the global response to antimicrobial resistance
To provide regular reports on the science and evidence related to AMR to the UN member states
To advocate for the inclusion of AMR 'lens' in investments on agriculture, health, development, food and feed production and
To push for multi-stakeholder engagement on the AMR issue.

Composition: It is a 20 member group comprising heads of government ,government ministers, leaders from private sector and civil society.It is co-chaired by the Prime Minister of Barbados and Prime Minister of Bangladesh.
Meeting: The group will meet twice a year.
Additional Facts:
Antimicrobial resistance(AMR): It occurs when bacteria, viruses, fungi, and parasites resist the effects of medications making common infections harder to treat and increasing the risk of disease spread, severe illness and death.
World Organisation for Animal Health(OIE): It is an intergovernmental organisation created in 1924 for improving animal health worldwide. It is also recognised as a reference organisation by the World Trade Organization(WTO).Headquarters: Paris,France.
FAO: It is a specialized agency of the United Nations that leads international efforts to defeat hunger.Headquarters: Rome, Italy.
News: Prime Minister has virtually participated in the 15th G20 Summit.
Facts:
The summit was convened under the presidency of Saudi Arabia.
Theme: "Realising the Opportunities of 21st Century for All"
Key Takeaways from the Summit:
India has called for a new Global Index for the Post-Corona World that comprises four key elements:

Creation of a vast Talent Pool
Ensuring that Technology reaches all segments of the society
Transparency in systems of governance and
Dealing with Mother Earth with a spirit of Trusteeship.

Indian PM also suggested creation of a G20 Virtual Secretariat as a follow up and documentation repository.
The G20 leaders have also announced that India will be hosting the G20 summit in 2023 — a year later than what was decided earlier.
Additional Facts: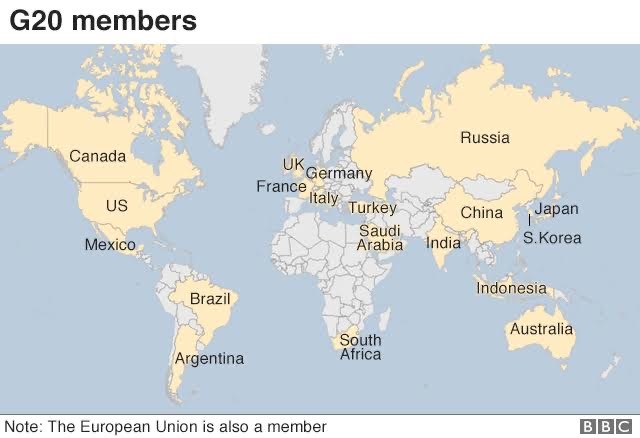 G-20: It is an international group initially founded in 1999 after the Asian financial crisis as a forum for finance ministers and central bank governors of 19 countries and the European Union.
Secretariat: It does not have any permanent secretariat staff and its chairmanship rotates annually between nations divided into regional groupings.
News: A trilateral naval exercise involving India, Singapore and Thailand named SITMEX 2020 has commenced in the Andaman Sea.
Facts:
Aim: To further consolidate interoperability between the three navies and also enhance understanding, sharing best practices and procedures for multi-faceted maritime operations.
Additional Facts:
Exercises between India and Singapore:

Exercise SIMBEX (Naval exercise)
Exercise SINDEX (Air force)

Exercises between India and Thailand:

Exercise Maitree (Military exercise)
Exercise SIAM BHARAT (Air Force).
Scheme for Creation and Expansion of Food Processing and Preservation Capacities(CEFPPC)
News: Ministry of Food Processing Industries has approved 28 Food Processing Projects under the Scheme for Creation and Expansion of Food Processing and Preservation Capacities(CEFPPC).
Facts:
Objective of the scheme: To create processing and preservation capacities and modernisation/ expansion of existing food processing units with a view to increasing the level of processing, value addition leading to reduction of wastage.
Nodal Ministry: Ministry of Food Processing Industries.
Implementation: Scheme is implemented through organizations such as Central & State PSUs/ Joint Ventures/ Farmer Producers Organization (FPOs)/ NGOs/ Cooperatives/ SHGs/ Pvt. Ltd companies engaged in establishment/ upgradation/ modernization of food processing units.
Explained: What is the Sentinel-6 satellite, and why is it important?
News: Copernicus Sentinel-6 Michael Freilich satellite was launched from the Vandenberg Air Force base in California aboard a SpaceX Falcon 9 rocket.
Facts:
Sentinel-6 Michael Freilich satellite also called the Jason Continuity of Service (Jason-CS) mission is designed to measure the height of the ocean, which is a key component in understanding how the Earth's climate is changing.
Satellites: The spacecraft consists of two satellites: Sentinel 6A which has been launched now and the other called Sentinel-6B to be launched in 2025.
Developed by:It has been developed jointly by the European Space Agency (ESA), NASA, European Organisation for the Exploitation of Meteorological Satellites (Eumetsat), the USA's National Oceanic and Atmospheric Administration (NOAA) and the EU.
Significance: The data from satellites such as Sentinel-6 help scientists foresee the effects of the changing oceans on the climate.
How kala-azar was eliminated from a highly endemic district in Bihar
News: Integrated control strategy in Vaishali district of Bihar has helped reduce the cases of Kala Azar from 664 in 2014 to 163 in 2016 (Eliminate means when the annual incidence of cases is reduced to less than 1 case per 10,000 people at the sub-district or block level).
Facts:
Kala-azar or visceral leishmaniasis(VL): It is a tropical disease characterised by irregular fever, weight loss, anaemia and swelling of the spleen and liver.
Caused by: It is caused by a protozoan Leishmania parasite and is transmitted to humans by the bite of infected female sandflies.
Cases Worldwide: According to the World Health Organisation (WHO), globally, about 7 to 10 lakh new cases occur annually.
Cases in India: India accounts for about two-thirds of the total global cases and the disease is endemic to Bihar, Jharkhand, Uttar Pradesh and West Bengal.
WHO Initiative: An initiative was launched by WHO to eliminate Kala Azar as a public health problem from the South East Asia region by 2020.The deadline has now been extended to 2023.
Initiatives: An integrated control strategy which included mapping of the case distribution, early case detection, chemical-based vector control, community awareness campaigns and strong supervision and monitoring system has helped reduce the cases of Kala Azar from 664 in 2014 to 163 in 2016 in Vaishali district of Bihar.
Parliamentary panel bats for laws to counter bio-terrorism
News: A Parliamentary Standing Committee on Health in its report "The Outbreak of Pandemic COVID-19 And its Management" has called for formulating effective laws to counter Bio-Terrorism.
Facts:
Bioterrorism: It is a terrorism involving the intentional release or dissemination of biological agents.These agents are bacteria, viruses, insects, fungi, or toxins, and may be in a naturally occurring or a human-modified form, in much the same way in biological warfare.
Example: Bioterrorism attacks could result in an epidemic, for example if Ebola or Lassa viruses were used as the biological agents.
Additional Facts:
Biological and Toxin Weapons Convention(BTWC): It opened for signature in 1972 and entered into force in 1975.It is the first multilateral disarmament treaty banning the production of an entire category of weapons.
Obligations: The treaty bans the development or acquire or transfer of biological agents or toxins that have no justification for peaceful uses and weapons or equipment designed to use such agents or toxins for hostile purposes.
Parties: It currently has 183 states.India signed the convention in 1973.