1 in 9 children infected by COVID-19: UNICEF
News: UNICEF has released a report titled— 'Averting a Lost COVID Generation'.
Facts:
Aim: The report calls for averting a lost generation as COVID-19 threatens to cause irreversible harm to children's education, nutrition and well-being.
Key Takeaways from the report:
Children and adolescents account for 1 in 9 reported COVID-19 infections.
Around third of the 135 countries analysed witnessed a drop of at least 10% in coverage of health services and there was a 40% decline in the coverage of nutrition services for women and children.
The number of children living in multidimensional poverty – without access to education, health, housing, nutrition, sanitation or water – is estimated to have soared by 15% or an additional 150 million children by mid-2020.
Recommendations:
Ensure all children learn by closing the digital divide.
Guarantee access to nutrition and health services and make vaccines affordable and available to every child.
Support and protect the mental health of children and young people and bring an end to abuse, gender-based violence and neglect in childhood.
Increase access to safe drinking water, sanitation and hygiene and address environmental degradation and climate change.
Reverse the rise in child poverty and ensure an inclusive recovery for all.
Redouble efforts to protect and support children and their families living through conflict, disaster and displacement.
Additional Facts:
UNICEF: It is a United Nations agency responsible for providing humanitarian and developmental aid to children worldwide. Headquarters: New York City, US.
News: The 2020 Asia-Pacific Economic Cooperation(APEC) Virtual Summit was hosted by the Malaysian Prime Minister.
Facts: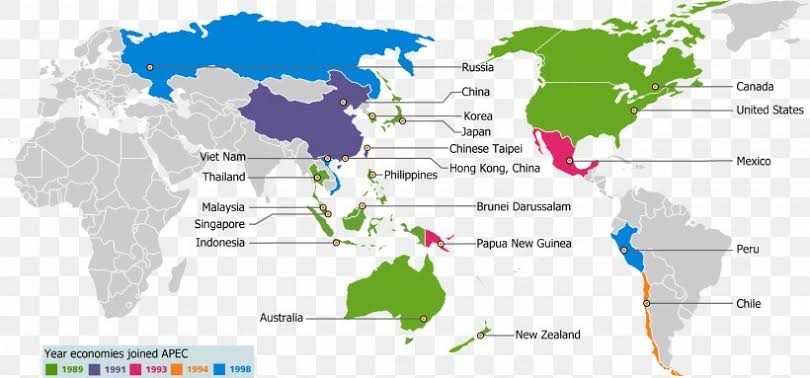 Asia-Pacific Economic Cooperation(APEC): It is a regional economic forum established in 1989 to leverage the growing interdependence of the Asia-Pacific.
Aim: To create greater prosperity for the people of the region by promoting balanced, inclusive, sustainable, innovative and secure growth and by accelerating regional economic integration.
Members: 21 members
Headquarters: Singapore
India is not a member of APEC.
Bogor Goals: These are a set of goals agreed by APEC members in 1994 in Bogor,Indonesia with the aim of free and open trade and investment in the Asia-Pacific by the year 2020.
India's IRNSS is now part of World Wide Radio Navigation System
News: Indian Regional Navigation Satellite System(IRNSS) has been accepted as a component of the World Wide Radio Navigation System (WWRNS) for operation in the Indian Ocean Region by the International Maritime Organization (IMO).
Facts:
How will it help India? This will enable merchant vessels to use IRNSS for obtaining position information similar to GPS and GLONASS to assist in the navigation of ships in ocean waters approximately up to 1500 km from Indian boundary.
Additional Facts:
IRNSS(NavIC): It is an independent regional navigation satellite system developed by India.It is designed to provide accurate position information service to users in India as well as the region extending up to 1500 km from its boundary.

Types of Service: IRNSS will provide two types of services, namely, Standard Positioning Service(SPS) which is provided to all the users and Restricted Service(RS) which is an encrypted service provided only to the authorised users.
Applications of IRNSS: Terrestrial, Aerial and Marine Navigation, Disaster Management, Vehicle tracking and fleet management, Integration with mobile phones, Mapping. Terrestrial navigation among others.
News: Indian Space Research Organisation(ISRO) has released the draft Space Based Communication Policy of India, 2020.
Facts:
Aim: To meet the growing demands of space based communication requirements of the nation and advancements in the relevant technologies for self-sustenance in areas of commercial, secured and societal communications.
Key Highlights of the Policy:
Authorisation for space-based communications: Only Indians may get authorisations from the Department of Space(DoS) for running a satellite-based communications service.Additionally, Indian entities will have to get financial guarantees or insurance against damage that can happen in outer space due to their equipment.
Re-assigning unused orbital resources: The policy puts pressure on authorised entities by saying that unused orbital resources may simply be given to someone who is better prepared to use them.
Involving Indian industry: The involvement of Indian industry should be encouraged to deal with demand for existing and emerging services so that they can provide services both at home and abroad.
Govt to take up security and connectivity projects: For communications for national security (like military satellites), the Department of Space will take full charge of such systems.The DoS will also take charge of connectivity projects in remote areas that a commercial service provider may not be inclined to pursue.
Indian companies can buy PSU-controlled orbital resources: Indian companies can purchase spectrum and other orbital resources from designated PSU/CPSE under DOS on commercial basis subject to availability.
LIC launches 1st digital app 'ANANDA'
News: Life Insurance Corporation of India(LIC) has launched a digital application called 'ANANDA'.
Facts:
ANANDA app: It is an acronym for Atma Nirbhar Agents NewBusiness Digital Application.
Purpose: It is a digital tool to get the Life Insurance policy through a Paperless module with the help of the Agent / Intermediary using Aadhaar based e-authentication.
Progress Towards Regional Measles Elimination report
News: World Health Organisation(WHO) and US Centers for Disease Control and Prevention has released a report titled "Progress Towards Regional Measles Elimination report".
Facts:
Key Highlights from the Report:
Measle cases across the world have increased to 8.6 lakhs in 2019, the highest number reported since 1996.
Global measles deaths have also climbed nearly 50% since 2016 claiming an estimated 2 lakh lives in 2019 alone.
India was among six countries with the highest number of infants who had not received the vaccine against measles.
Additional Facts:
Measles: It is a highly contagious, serious disease caused by a virus and it is normally passed through direct contact and through the air.The virus infects the respiratory tract, then spreads throughout the body.

Who is at risk? Unvaccinated young children are at highest risk of measles and its complications including death. Unvaccinated pregnant women and non vaccinated persons are also at risk.

Measles & Rubella Initiative: It is a global partnership launched in 2001 by American Red Cross, United Nations Foundation, Centers for Disease Control and Prevention (CDC), UNICEF and WHO.

Aim: To ensure that no child dies from measles or is born with congenital rubella syndrome.It also helps countries to plan, fund and measure efforts to stop measles and rubella for good.
Mastercard, USAID launches Project Kirana
News: United States Agency for International Development (USAID) and MasterCard has launched Project Kirana.
Facts:
Purpose: It is a two-year project that will focus on increasing revenue streams, expanding financial inclusion and improving digital payments adoption of kirana shops that are owned or operated by women.
Additional Facts:
USAID: It is an independent agency of the United States federal government that is primarily responsible for administering civilian foreign aid and development assistance.