News: Indian Space Research Organisation(ISRO) has short-listed 20 space-based experiment proposals for its proposed Shukrayaan Mission.
Facts:
Shukrayaan Mission: It is a mission to study Venus for more than four years.
Launch Year: The satellite is planned to be launched in either 2024 or 2026 onboard GSLV Mk II rocket.
Significance of studying Venus?

Venus is often described as the twin sister of the Earth because of the similarities in size, mass, density, bulk composition and gravity.
It is believed that both planets share a common origin, forming at the same time out of a condensing nebulosity around 4.5 billion years ago.
Venus is around 30 per cent closer to the Sun as compared to Earth resulting in much higher solar flux.
Pilibhit Tiger Reserve gets global award for doubling tiger populations
News: Pilibhit Tiger Reserve(PTR) and the Uttar Pradesh Forest department have bagged the first-ever international award, TX2 for doubling the number of tigers in four years(25 in 2014 to 65 in 2018) against a target of 10 years.
Facts:
Pilibhit Tiger Reserve(PTR): It is situated in Uttar Pradesh forming part of the Terai Arc Landscape in the upper Gangetic Plain Biogeographic Province.It was declared as a tiger reserve in 2008.
The northern edge of the reserve lies along the Indo-Nepal border while the southern boundary is marked by the river Sharada and Khakra.
Additional Facts:
Tx2 programme: It is an initiative of the World Wide Fund for Nature (WWF) launched at the 2010 St Petersburg Tiger Summit.Under this programme, all 13 tiger range governments have committed to double the number of wild tigers by 2022.
13 tiger range countries: India, Bangladesh, Bhutan, Cambodia, China, Indonesia, Lao PDR, Malaysia, Myanmar, Nepal, Russia, Thailand and Vietnam.
WWF: It is an international non-governmental organization founded in 1961 to stop the degradation of the planet's natural environment and to build a future in which humans live in harmony with nature. Headquarters: Gland, Switzerland.
Explained: What are Negative Bond Yields?
News: The demand for negative yield bonds is on rise in the global market.
Facts:
Negative-yield bonds: These are debt instruments that offer to pay the investor a maturity amount lower than the purchase price of the bond.These are generally issued by central banks or governments and investors pay interest to the borrower to keep their money with them.
Why do investors buy Negative Yield Bonds?

Pledge asset: Bonds are often used to pledge as collateral for financing and as a result need to be held regardless of their price or yield.
Currency Gain: Some investors believe they can still make money even with negative yields. For example, foreign investors might believe the currency's exchange rate will rise, which would offset the negative bond yield.
Deflation Risk:Domestically, investors might expect a period of deflation, or lower prices in the economy, which would allow them to make money by using their savings to buy more goods and services.
Safe Haven Assets: Investors might also be interested in negative bond yields if the loss is less than it would be with another investment.
New Chinese Village in Bhutan: Pangda Village
News: China has established a village 2 km within Bhutan's territory named Pangda Village.
Facts: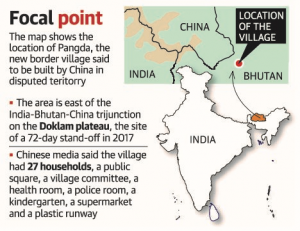 Pangda village: It is a new border village built by China.The village is located on territory disputed by China and Bhutan.
The area is east of the India-Bhutan-China trijunction on the Doklam plateau, the site of a 72- day stand- off in 2017.
Additional Facts:
Doklam or Donglang in Chinese: It is an area spread over less than a 100 sq km comprising a plateau and a valley at the trijunction between India, Bhutan and China.It is surrounded by the Chumbi Valley of Tibet, Bhutan's Ha Valley and Sikkim.
Sakteng Wildlife Sanctuary: It is located in Trashigang District, Eastern Bhutan.It is listed as a tentative site in Bhutan's Tentative List for UNESCO inclusion.
Need to step up efforts to meet nutrition targets, says NITI Aayog report
News: NITI Aayog has released a progress report on the National Nutrition Mission or the Poshan Abhiyaan.
Facts:
Poshan(Prime Minister's Overarching Scheme for Holistic Nutrition) Abhiyan: It is Government of India's flagship programme launched in 2018 to improve nutritional outcomes for children, pregnant women and lactating mothers with specific targets to be achieved by 2022.
Targets: It aims to reduce stunting and wasting by 2% per year (total 6% until 2022) among children and anaemia by 3% per year (total 9% until 2022) among children, adolescent girls and pregnant women and lactating mothers.
Key Highlights from the report:
Targets on Stunting: India's targets on stunting are conservative as compared to the global target defined by the World Health Assembly (WHA) which is a prevalence rate of 5% of stunting as opposed to India's goal of reducing stunting levels to 13.3% by 2022.
Complementary Feeding: There is a need to lay emphasis on complementary feeding as it does on breastfeeding which can help avert 60% of the total stunting cases in India.
Improve Sanitation: The report recommends improved water, sanitation, hand washing with soap and hygienic disposal of children's stools as other interventions which could help avert a quarter of the stunting cases.
Targets on Anaemia: The target of reducing prevalence levels of anaemia among pregnant women from 50.3% in 2016 to 34.4% in 2022 and among adolescent girls from 52.9% in 2016 to 39.66% is also considered to be conservative as compared to the WHA's target of halving prevalence levels.
Note: Stunting- low height for age, Wasting- low weight compared to height, Underweight- low weight for age, Malnutrition includes both under and over nutrition and Anaemia-Lack of Healthy Red blood cells.
80th All India Presiding Officers Conference
News: President of India has inaugurated the 80th All India Presiding Officers Conference.
Facts:
Organized by: Lok Sabha to celebrate Constitution day
Focus: The conference will discuss ways to ensure constitutional accountability of the legislature and the executive to the people.
Theme: 'Harmonious coordination between Legislature, Executive and Judiciary — Key to a vibrant democracy'
Additional Facts:
Constitution Day also known as 'Samvidhan Divas' is celebrated on 26th November every year to commemorate the adoption of the Constitution of India.On 26th November 1949, the Constituent Assembly of India adopted the Constitution of India which came into effect from 26th January 1950.
Cyclone Nivar To Hit Tamil Nadu, Puducherry
News: Cyclone Nivar is expected to make a landfall in Tamil Nadu and Puducherry.
Facts:
Cyclone Nivar: It is a severe cyclone that is expected to make a landfall in the Southwest region of the Bay of Bengal off Tamil Nadu coast.
Who named it? Nivar is the third name to be used from the new list of names for North Indian Ocean Cyclones released in 2020.It was suggested by Iran.
Additional Facts:
Tropical Cyclones: These are storms that originate and intensify over warm tropical oceans.They are intense low pressure areas with very strong winds circulating around it in anti-clockwise direction in the Northern Hemisphere and in clockwise direction in the Southern Hemisphere.
How are Cyclones named?

In 2000, the World Meteorological Organisation and United Nations Economic and Social Commission for Asia and the Pacific has agreed on a formula to assign names to tropical cyclones in the Bay of Bengal and the Arabian Sea.
The members which come under the region are Bangladesh, India, Maldives, Myanmar, Oman, Pakistan, Sri Lanka and Thailand.In 2018, five more countries were added which are Iran, Qatar, Saudi Arabia, the UAE and Yemen.
The members' names are listed alphabetically country-wise starting with Bangladesh followed by India, Iran, Maldives and so on.