U.S. imposes CAATSA sanctions on Turkey for S-400 Purchase
News: The United States(US) has imposed Countering America's Adversaries Through Sanctions Act (CAATSA) sanctions on Turkey for its purchase of Russia's S-400 missile defence system.
Facts:
What is Countering America's Adversaries Through Sanctions Act (CAATSA)? It is a US federal law enacted in 2017 that imposed sanctions on Iran, North Korea and Russia.
Purpose: The Act empowers the US President to impose sanctions against countries that engage in a significant transaction with Russian defence and intelligence sectors.
What type of sanctions will be imposed? a) Prohibition on loans to the sanctioned person b) prohibition of Export-Import bank assistance for exports to sanctioned persons c) prohibition on procurement by the United States Government to procure goods or services from the sanctioned person among others.
Implications for India: India could also face similar US sanctions for purchasing high-value military defense items, in particular the S-400 Triumf missile defense system from Russia under the act.
Additional Facts:
S-400 Triumf Missile: It is a mobile, surface-to-air missile system(SAM) designed by Russia.The system can engage all types of aerial targets including aircraft, unmanned aerial vehicles(UAV) and ballistic and cruise missiles within the range of 400km, at an altitude of up to 30km.It can track 100 airborne targets and engage six of them simultaneously.
Only 12.9% Indian women hold agricultural land: Index
News: Centre for Land Governance has released an index ranking states in terms of women holding land rights in percentage points.
Facts:
Key Takeaways:
Land Holding by Women: Women constitute a third(32%) of India's agricultural labour force and contribute 55-66% to farm production. However, they hold only 12.8% of the land in India.
Best States Providing Land Rights for women: Lakshadweep and Meghalaya are best at providing land rights to women; Punjab and West Bengal are the worst.
Region wise Land Holdings:In the southern states, 15.4% of women hold land and in the northeast, 14.1%.Despite such low figures, these states outperform the northern states (9.8%) and the eastern states(9.2%).
Importance of Land rights for women: Secure and impartial land rights for women are crucial for a country to achieve sustainable development goals such as ending poverty and achieving gender equality.
News: Doctors have witnessed more than 12 cases of Covid-19 triggered Mucormycosis fungus.
Facts:
Black Fungus or Mucormycosis: It is a serious but rare fungal infection caused by a group of molds called mucormycetes which exist in the environment.
Symptoms: The symptoms are face numbness, one-side nose obstructions or swelling of eyes or pain.
Vulnerable Group: Mucormycosis mainly affects people who have health problems or take medicines that lower the body's ability to fight germs and sickness.
Transmission: It is acquired when spores produced by the mold are inhaled or much less commonly when they enter the body through a cut or other break in the skin.It does not spread between people or between people and animals.
Diagnosis: Healthcare providers consider medical history, symptoms, physical examinations, and laboratory tests when diagnosing mucormycosis.
Treatment: It needs to be treated with prescription antifungal medicine. Often, mucormycosis also requires surgery to cut away the infected tissue.
QCI Launches Recognition Scheme for Hygiene Rating Audit Agencies
News: Quality Council of India(QCI) at the behest of the Food Safety and Standards Authority of India(FSSAI) has launched a "Scheme for approval of Hygiene Rating Audit Agencies".
Facts:
Objective: To scale up Hygiene Rating by increasing the number of recognised Hygiene Rating Audit Agencies in the country.
Additional Facts:
Food Hygiene Rating Scheme: It is a certification system by FSSAI for food businesses supplying food directly to consumers, either on or off premise.The food establishments are rated based on food hygiene and safety conditions observed at the time of audit.
Quality Council of India (QCI): It was set up in 1997 jointly by the Government of India and the Indian Industry to establish and operate national accreditation structure and promote quality through National Quality Campaign.

Nodal Ministry: Department for Promotion of Industry and Internal Trade, Ministry of Commerce & Industry is the nodal department for QCI.
Chairman: The Chairman of QCI is appointed by the Prime Minister on the recommendation of the industry to the government.

FSSAI: It is a statutory, autonomous body established under the Ministry of Health & Family Welfare.It is responsible for protecting and promoting public health through the regulation and supervision of food safety.
India Post Payments Bank launches its digital payments services 'DakPay'
News: Department of Posts (DoP) and India Post Payments Bank(IPPB) has unveiled a new digital payment app 'DakPay'.
Facts:
DakPay: To facilitate easy digital transactions and other banking services through the trusted Postal ('Dak') network across the nation to cater to the financial needs('Pay') of various sections of the society.
Significance: The App is launched as part of its ongoing efforts to provide Digital Financial inclusion at the last mile across India.
Additional Facts: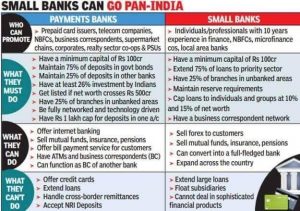 India Post Payments Bank(IPPB): It has been established in 2018;under the Department of Posts, Ministry of Communication with 100% equity owned by Government of India.

Mandate: To remove barriers for the unbanked & underbanked and reach the last mile leveraging the Postal network.
RBI allows RRBs to access LAF, MSF windows
News: Reserve Bank of India(RBI) has allowed regional rural banks (RRBs) to access the liquidity adjustment facility(LAF), marginal standing facility(MSF) and call or notice money markets with the aim to facilitate better liquidity management for these lenders.
Facts:
Liquidity Adjustment Facility(LAF): It is a facility extended by the Reserve Bank of India to the banks to avail liquidity in case of requirement or park excess funds with the RBI in case of excess liquidity on an overnight basis against the collateral of Government securities including State Government securities.
Marginal standing facility(MSF): It is a window for banks to borrow from the Reserve Bank of India in an emergency situation when interbank liquidity dries up completely.MSF rate is generally higher than Repo rate.
Call or Notice Market: The call/notice money market forms an important segment of the Indian Money Market.Under call money market, funds are transacted on an overnight basis and under notice money market funds are transacted for a period between 2 days and 14 days.
Additional Facts:
Regional Rural Banks: These are financial institutions which ensure adequate credit for agriculture and other rural sectors.They were set up on the basis of the recommendations of the Narasimham Working Group (1975), and after the legislation of the Regional Rural Banks Act, 1976.
First RRB: The first Regional Rural Bank "Prathama Grameen Bank" was set up on 2nd October, 1975.
Stakeholders: The equity of a regional rural bank is held by the Central Government, concerned State Government and the Sponsor Bank in the proportion of 50:15:35.
PSL: The RRBs are required to provide 75% of their total credit as priority sector lending(PSL).
5th India Water Impact Summit(IWIS)
News: The 5th India Water Impact Summit(IWIS) has commenced in a virtual mode.
Facts:
Organized by: The summit has been organised by the National Mission for Clean Ganga and Center for Ganga River Basin Management and Studies(cGanga).
Objective: To bring together various stakeholders to discuss, debate and develop model solutions to some of the biggest water related issues in the country.
Theme: "Arth Ganga: River Conservation Synchronised Development"
Additional Facts:
NMCG: It is the implementation wing of National Council for Rejuvenation, Protection and Management of River Ganga (referred as National Ganga Council).It was established in the year 2011 as a registered society under Societies Registration Act,1860.
2927 Court complexes across country connected under E-Courts Project
News: As many as 2927 complexes across India have been connected so far by a high-speed Wide Area Network(WAN) under e-Courts Project.
Facts:
eCourts Project: It is an Integrated Mission Mode Project under implementation since 2007 as part of National e-Governance Plan.
The project is based on the National Policy and Action Plan for Implementation of Information and Communication Technology in Judiciary-2005.
Aim: To provide designated services to litigants, lawyers and the judiciary by universal computerization of district and subordinate courts in the country by leveraging Information and Communication Technology (ICT) for improved justice delivery.
Implementation: The project is monitored and funded by the Ministry of Law and Justice.