News: The Vice President of India has virtually inaugurated the 12th GRIHA (Green Rating for Integrated Habitat Assessment) Summit.
Facts:
GRIHA Summit: It is the annual flagship event organized by GRIHA Council in association with key stakeholders in the construction industry to discuss and deliberate on furtherance of Sustainable Habitat Development in India.
Theme: "Rejuvenating Resilient Habitats"
Additional Facts:
Building Fitness Indicator(BFI): It is a self-assessment online tool launched by GRIHA Council to assess safety and hygiene standards for workplaces in India.
Global Housing Technology Challenge India(GHTC-India): It was organised by the Ministry of Housing and Urban Affairs in 2019 with an aim to identify and mainstream best available and proven construction technologies that are sustainable, green and disaster-resilient to enable a paradigm shift in housing construction.
GRIHA: It is an independent, not-for-profit society jointly setup by The Energy and Resources Institute(TERI) and the Ministry of New and Renewable Energy (MNRE).

Purpose: It evaluates the environmental performance of a building holistically over its entire life cycle, based on quantitative and qualitative criteria, thereby providing a definitive standard for green buildings and sustainable habitats.
News: Indian Association of the Cultivation of Science(IACS), Kolkata has organised the Vigyan Yatra.
Facts:
Vigyan Yatra: It is a promotional activity undertaken as part of India International Science Festival(IISF) to promote scientific temper and inculcate the culture of science among the masses.
Additional Facts:
IISF: It is a festival launched in 2015 to promote Science and Technology and demonstrate how science could lead India towards a developed nation within a short span of time.

Organized by: Ministry of Science & Technology and Ministry of Earth Sciences in association with Vijnana Bharati (VIBHA) organizes IISF every year.
Theme for 2020: Science for Self Reliant India and Global Welfare".
U.S. puts India on 'currency manipulators' monitoring list
News: The United States has added India along with Taiwan and Thailand to the 'monitoring list' of currency manipulating countries that includes major trading partners like China and six others.
Facts: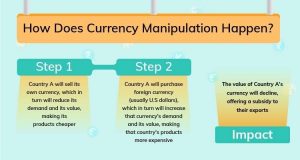 Currency Manipulator: The US Treasury department defines currency manipulation as when countries deliberately influence the exchange rate between their currency and the US dollar to gain unfair competitive advantage in international trade.
Criteria: To be labeled a manipulator by the U.S. Treasury, countries must

Atleast have a $20 billion-plus bilateral trade surplus with the U.S.
Foreign currency intervention exceeding 2% of gross domestic product and
Global current account surplus exceeding 2% of GDP.

Implications: Once a country is designated as a currency manipulator by the U.S., the next step taken by the US government is to seek negotiations with the government accused of manipulation.
India and UK launches Virtual Vaccines Hub
News: India and the UK Government has launched a Virtual Vaccines Hub.
Facts:
Objective: To distribute vaccines for Covid-19 and other deadly viruses by sharing knowledge on clinical trials and regulatory approvals and get vaccines to people who need them most in a safe, secure and energy-efficient way.
Explained: The significance of US recognising Morocco's sovereignty over Western Sahara
News: Morocco has agreed to become the fourth Arab nation to normalise relations with Israel as part of a deal in which the US agreed to recognise its claim over the disputed Western Sahara region.
Facts:
Western Sahara: It is a disputed territory on the northwest coast of Africa bordered by Morocco, Mauritania, and Algeria.
Significance: It is mineral rich home to abundant reserves of phosphate, a key ingredient in the manufacturing of synthetic fertilisers.It has also lucrative fish resources and is believed to have off-shore oil.
Dispute: After Spain had withdrawn from Western Sahara in 1976, two thirds of its annexed by Morocco.Since then it has been the subject of a territorial dispute between Morocco and its indigenous Saharawi people led by the Polisario Front.