Government launched the CoWIN Grand challenge
News: Ministry of Health and Family Welfare(MoHFW) and the Ministry of Electronics and Information Technology (MeitY) has announced its grand challenge "CoWIN".
Facts:
Aim: To strengthen the COVID-19 Vaccine Intelligence Network (CoWIN) system.
Eligibility: Indian tech startups, MSMEs, companies and Limited Liability Partnerships(LLPs) registered in India under Companies Act can apply. Further, teams not registered as companies or startups or MSMEs can also participate in the challenge.
Areas of Focus: The MoHFW has identified seven areas to focus on- 1) High Adherence rate; 2) Portability across India; 3) Vaccine Transportation; 4) Queue management; 5) Report adverse event following immunisation and adverse event of special interest; 6) Learning Management System; and 7) Logistic Management Information System.
Additional Facts:
What is CoWIN Platform?
CoWIN: It is a digitalised platform launched by the Ministry of Health and Family Welfare (MoHFW) to help agencies keep a track of Covid-19 vaccination programme and allow Indian citizens to apply for a Covid-19 vaccine shot.
What is CoWIN-20 app?

Government developed an app as part of CoWIN platform named CoWIN-20. for real-time monitoring of Covid-19 Vaccine.
The main feature of the app is that it will send real-time data from the cold-storage facilities that store Covid-19 vaccines. This is an extension of eVIN (Electronic Vaccine Intelligence Network)
Modules: The app is divided into five modules.These are administrator module, registration module, vaccination module, beneficiary acknowledgement module and report module.
For example, a front line worker like Health care worker can register themselves in app using the "registration module". After the registration is done the "beneficiary acknowledgement module" will send an acknowledgement to the person
Beneficiary Acknowledgement module will provide QR based Certificate once the person is vaccinated.
India successfully conducts tests of Medium Range Surface to Air Missile (MRSAM)
News: India has successfully conducted the first launch of the Army version of the Medium Range Surface to Air Missile(MRSAM).An unmanned air vehicle(UAV), 'Banshee', was first flown into the air which was hit by the MRSAM.
Facts:
MRSAM: It is an Air and Missile Defence system developed by the Defence Research and Development Organisation (DRDO) in collaboration with the Israel Aerospace Industry(IAI).
Purpose: It has been developed to neutralise airborne threats like jets, missiles and rockets, including projectiles launched simultaneously.
Key Features:

The Missile consists of a command and control post, multi-function radar and mobile launcher system.
It has a strike range of nearly 100 km, weighs around 2.7 tonne and can carry a payload of 60 kg.
The missile has a speed of Mach 2 and possesses high degrees of maneuverability at the target interception range.
Cabinet Approves changes In Post-Matric Scholarship Scheme For Scheduled Caste Students
News: The Cabinet Committee on Economic Affairs has approved changes to the post-matric scholarship scheme for students from the Scheduled Castes.
Facts:
Changes are aimed to benefit more than 4 Crore SC students in the next 5 years so that they can successfully complete their higher education.
Post Matric Scholarship scheme For Scheduled Caste Students: The Scheme aims to provide financial assistance to the Scheduled Caste students studying at post matriculation or post-secondary stage to enable them to complete their education.
Eligibility: These scholarships are available for studies in India only and are awarded by the government of the State/Union Territory to which the applicant actually belongs i.e. permanently settled.
Funding: It is a Centrally Sponsored scheme with a funding pattern of 60-40 for the Centre and States.

This replaces the existing "committed liability" system and brings greater involvement of the Central government in this scheme.

Income Ceiling: Scholarships will be paid to the students whose parents/guardians' income from all sources does not exceed Rs. 2,50,000/- (Rupees two lakh fifty thousand only).
Transparency: The scheme will be run on an online platform with cyber security measures that would assure transparency, accountability, efficiency, and timely delivery of the assistance without any delays.
Community Audit: The community audits of the scheme would be conducted to make sure the benefits were reaching the students.
Cabinet nod for 100% FDI in DTH service
News: Union Cabinet has approved revised guidelines for Direct-to-Home (DTH) broadcasting services.
Facts:
Direct to Home(DTH): It enables a broadcasting company to directly beam the signal to your TV set through a receiver that is installed in the house.There is no need for a separate cable connection.
Advantages of DTH:

One can do away with the cable operator who will give you channels of his choice.
The quality of signals in this case is expected to be superior since the signal is not split through a cable.
There is a possibility of reducing your monthly cable bill.

Disadvantages: Capital cost has to be borne initially. Since this involves setting up of a receiving apparatus at the subscribers end, the cost can be prohibitively high.
What are the revised guidelines for DTH Services?
It allowed 100% Foreign direct Investment(FDI) in the direct-to-home (DTH) broadcasting services sector.Currently, FDI was limited to 49%.
License for the DTH will be issued for a period of 20 years in place of present 10 years.Further the period of License may be renewed by 10 years at a time.
License fee has been revised from 10% of GR (gross revenue) to 8% of AGR (adjusted gross revenue).License fee will be collected on a quarterly basis against the current annual basis.
Sharing of Infrastructure between DTH operators. DTH operators, willing to share DTH platforms and transport streams of TV channels on a voluntary basis will be allowed.
Uttarakhand: First tiger translocation today
News: Rajaji Tiger Reserve is set to welcome the first tiger from Jim Corbett Tiger Reserve in the first such relocation in Uttarakhand aimed at tiger population management.
Facts:
Why translocations of tigers needed?
The western portion of the Rajaji Tiger Reserve, which occupies more than 60% of the total reserve area has only two tigresses presumed to be unfit for reproduction as they are above 18 years.
Despite Rajaji having 37 tigers, the eastern part cannot boost numbers in the western portion as the two are divided by a traffic corridor which makes it difficult for the big cats to migrate.
Hence, with this relocation, a rise in tiger numbers can be expected in the western part next year.
Additional Facts:
Jim Corbett National Park: It was established in 1936 as Hailey National Park- the first national park in India.It is located in the Nainital district of Uttarakhand. The Corbett national park has highest tiger count from single reserve in the recent Tiger census(carried once in 4 years)

The park was declared a Tiger Reserve in 1973- the first to come under the Project Tiger initiative.
The tiger reserve is situated in the Shivalik hills of Himalayas while administratively it spreads over Pauri Garhwal, Nainital and Almora districts of Uttarakhand State in India.

Rajaji National Park: It is a national park and tiger reserve that encompasses the Shivaliks, near the foothills of the Himalayas.

It was declared as a tiger reserve in 2015 and is the second tiger reserve in the Uttarakhand and 48th Tiger Reserve of India.
The park extends over the Shivalik Range in the north-west to the Rawasan River in the southeast with the Ganges dividing it into two parts.
Some of the basic features of the Shivalik formations are to be seen in the park and is rightly known as a veritable storehouse of Shivalik biodiversity and ecosystems.
The western part of the Park consists of the Ramgarh, Kansrao, Motichur, Hardwar, Dholkhand and Chillawali Ranges.

Project Tiger: It is a Centrally Sponsored Scheme of Government of India launched in 1973 for in-situ conservation of wild tigers in designated tiger reserves.
Madhya Pradesh (526) has maximum tigers in our country followed by Karnataka (524) and Uttarakhand (442).
Global Tiger Forum(GTF): It is the only inter-governmental international body established in 1993 with members from willing countries to embark on a global campaign to protect the Tiger. It is located in New Delhi, India.
Global Tiger Initiative(GTI): It was launched in 2008 as a global alliance of governments, international organizations, civil society and the private sector with the aim of working together to save wild tigers from extinction. In 2013, the scope was broadened to include Snow Leopards.
Cabinet approves merger of four government-run film and media units
News: Cabinet has approved the merger of four government-run film and media units — the Films Division, the Directorate of Film Festivals, the National Film Archives of India and the autonomous body Children's Film Society with the National Film Development Corporation(NFDC).
Significance of Merger: The merger of Film Media Units under one corporation will lead to convergence of activities and resources and better coordination, thereby ensuring synergy and efficiency in achieving the mandate of each media unit.It will also lead to reduction in duplication of activities and direct savings to the exchequer
Facts:
Films Division: It was established in 1948 and is the oldest of the four units created primarily to produce documentaries and news magazines as publicity for government programmes and to keep a cinematic record of Indian history.
National Film Archives of India: It was established in 1964 with the primary objective of acquiring and preserving Indian cinematic heritage.
Directorate of Film Festivals: It was set up in 1973 to promote Indian films and cultural exchange.
Children's Film Society: It is an autonomous body founded in 1955 with the specific objective of providing children and young people value-based entertainment through the medium of films.
National Film Development Corporation of India(NFDC): It was established in 1975 to encourage high quality Indian cinema.

It functions under the Ministry of Information and Broadcasting, Government of India.
The primary goal of the NFDC is to plan, promote and organise an integrated and efficient development of the Indian Film Industry and foster excellence in cinema.
Headquarters: Mumbai
Kilauea volcano erupts in Hawaii
News: Kilauea volcano in Hawaii's Big Island erupted followed by an earthquake.
Facts: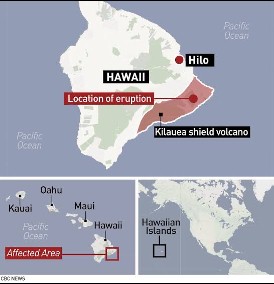 Kilauea Volcano also called Mount Kilauea is located in Hawaii Volcanoes National Park on the southeastern part of the island of Hawaii, U.S.A.
It is the most active of the five volcanoes that form the Island of Hawaii. Recently, the volcano's summit has collapsed to form a caldera.

Caldera: It is a depression created after a volcano partially collapses after releasing the majority of its magma chamber in an explosive eruption.